In Memorium - Caroline Pool Turoff
Oct 2022 - Issue 259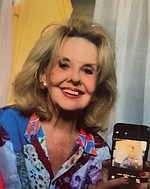 Caroline Pool Turoff was born on September 27th 1943 and died on August 20 2022. She grew up in Piqua Ohio and attended the university of Cincinnati , graduating in 1965. Hallmark hired her right out of college and pretty soon she was in New York where she met the love of her life, Allan Turoff, in 1971. They married in 1976, appropriately enough in F.A.O. Schwartz as they were both in the toy business. ( Allen invented BOGGLE and it supported the whole family .)
They were walking down Fifth Avenue together one night when they saw what looked like smoke coming out of F.A.O. Schwartz. They called the Fire Department and were the heroes of the night. F.A,O.Schwartz offered them a wedding as a thank you and they gladly accepted. They lived happily in Snedens Landing with Allan's sons until his terribly untimely death in 1984. Devastated, Caroline moved into an apartment in Gramercy Park where she lived mainly for the rest of her life.
I got to know her in 1998. We had run into each other a few times around Snedens but didn't really know each other until we became accidental roommates on a trip to Morocco. We had so much fun together that we were close for the next fifteen years. We joined the Manhattan Theatre club and saw plays together once a month, usually seeing a matinee and then wandering around New York having adventures until I had to travel back to Tarrytown. We traveled to Rome together the year after Morocco, visiting Alex and Tom Richardson, then British Ambassador to Rome. We walked everywhere and ate everything. A trip to New Mexico a few years later and a trip to Cuba a few years after that completed our travels.
Caroline was magic. Imaginative, adventurous, always willing to try something new. She was such wonderful company that I always looked forward to seeing her. She looked different every time we got together. Her amazing fashion sense showed in the imaginative way she dressed: always looking like nobody else in the room. People stopped her in the street. She was beautiful but never seemed impressed by herself. She had a huge, generous heart and once took a lovely necklace off and handed it to me when I admired it I still treasure it. She dearly loved her family and friends, and was loyal to all of them. She did wonderful things to her apartments and to her lovely house:her sense of design made all her spaces cosy, beautiful and welcoming. The rooms she inhabited were like her:colorful,fascinating and original. Nobody was like her, and everyone who was lucky enough to know her will miss her effervescent presence for a very long time. She enriched all of our lives.
Carolyn supported givelively.org, which supports cancer research for child- hood cancer. Caroline's niece Josephine died of it.