In Memorium: Caroline Tapley
Mar 2021 - Issue 253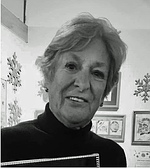 Caroline Rosalie Tapley (née Southall), born in London in 1934, died in her sleep at home in Piermont, NY, on December 22, 2020. She earned a degree in English from Oxford University and, until the end of her life, could always be relied upon to provide the correct word.
Caroline had a love of gardening, of beautiful furniture and objects, and always created a graceful home. She made colored-pencil drawings, was a published author and editor, proprietor of a store in Piermont, and contributed to the historical records of Rockland County.
Caroline was pre-deceased by her husband Donald, and is survived by three daughters, Kate of Chevy Chase, MD; Elisabeth of Piermont; Sarah Styles of Nyack, NY; six grandchildren and one great-grandchild. There was a small graveside service on December 30th at Rockland Cemetery.