In Memorium: Gideon Panter
Mar 2021 - Issue 253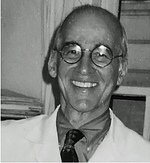 Gideon G. Panter, M.D., a longtime resident of Palisades, N.Y., passed away on December 23, 2020. Born on April 24, 1935 in Montreal, he was a renowned physician of Obstetrics and Gynecology in private practice for over 50 years, and an associate professor of OB/GYN at Weill Cornell Medical College. He was an expert in women's health and infertility, and an innovator in surgical technology.
He was the patriarch of a large family, in whom he instilled a love for Judaism and education above all. Dr. Panter first moved to Palisades in 1962, and settled in Snedens Landing in 1971. He raised his family with a profound appreciation for the history of the Palisades, its natural beauty, and its strong community values. He was an early supporter of Columbia's Lamont-Doherty Earth Observatory, the Palisades Free Library, the Palisades Community Center, the Orangetown Jewish Center, the Edward Hopper House and the Palisades Swim Club. He loved the "little things of life" and was especially fond of events held at the Palisades Community Center.
After moving his practice to Manhattan, he still remained available at all times to his neighbors, responding to medical emergencies and providing counsel. He delighted in Orangetown's outdoors - driving his convertible, reading the New York Times on the Piermont pier, kayaking in the marshes, exploring Tallman Mountain State Park, or simply eating on his porch with views of the Tappan Zee Bridge. Dr. Panter is pre-deceased by his first wife, Carol, and is survived by his second wife, Nancy Waltner MD, his seven children, Danielle (Phil Wyatt), Abigail (George Huba), Michaela (Yevgeny Gelfand), Jonathan, Joshua, Giulia and Dara, his seven grandchildren, and his sister, Elanna Sherman (Shneor). Dr. Panter is buried in Israel, on the hills overlooking Jerusalem.