Neil Balm and The Trumpet
May 2018 - Issue 241
Neil has been described as a virtuoso. He is principle trumpet for the New York Pops and the Mostly Mozart Festival and co-principle trumpet for the New York City Ballet. He made his solo debut at the Kennedy Center in 1991 and has been a soloist on "Live From Lincoln Center." He plays for Broadway shows, the opera, big band and with chamber music groups. He records for television, radio, commercials, major motion pictures and with numerous ensembles. He even played rock for Peter Frampton in 1979 in front of 60,000 screaming fans.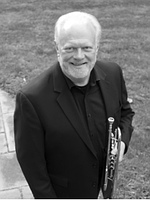 When Neil was 13, his father died and his mother said to him, "I think you should be a dentist." He knew he didn't want to be a dentist, because at the age of seven, dawdling in the basement where his father, a high school music teacher in Hamilton, Ontario, knocked out the dents, unstuck the keys, fixed the damage inflicted on musical instruments by schoolchildren at their lessons, Neil picked up a trumpet that was lying around and blew it. He knew then what he wanted. It was the sound that got him.
In high school on the weekends, he made money playing in dance bands and in orchestras. The Canadian Brass performed "kiddie concerts" at his school and his music teacher encouraged him to study with the group, where he was mentored by the renown trumpeter Ronald Romm. He enrolled at the University of Toronto with a major in Music Performance but after a year decided he wanted to transfer to Juilliard to study with the celebrated trumpeter and teacher, William Vacchiano, who had taught Romm.
Vacchiano was on Neil's audition panel at Juilliard and accepted him. Neil's triumph meant that tuition fees would be high and his mother, adjusting her ambitions for him, sold the house to pay his way.
In 1994, with timpanist and fellow Juilliard graduate Jonathan Haas, Neil founded Gemini Music Productions, which is now the largest independent employer of musicians in New York City. The company hires and manages musicians, rehearsal schedules, payrolls, and contracts for music organizations. Even in high school, he was the organizer, he said, the one who set up the chairs. And he's married to an organizer, Michele Balm. They are very organized, he laughs.
He tells the story of how they met. Michele was an intern at Lincoln Center's Mostly Mozart Festival in 1988 and he was principle trumpet. Her name had been included on the credits for the television broadcast and when she came backstage to clean the coffee pot, one of her duties, he teased her about being famous and they got to talking and found out that they are both Dutch and that they both speak Dutch, so they spoke a little Dutch to each other and then one thing led to another and now they've been married for 27 years, 25 of them here in Palisades.
Musicians are not always visible. Neil overheard during an intermission of "Beauty and The Beast" a mother who had come up to the railing separating the audience from the orchestra pit and exclaimed to her small son, "See! I told you there are people down there!"
Neil notes that the music industry is in transition and that it's much harder for musicians to break in. Technology and new distribution venues can be good for the public generally, but not necessarily good for musicians and creative artists who are seeing their revenue streams dry up.
Neil attributes his own success to luck, hard work, but most importantly, to people who mentored him, believed in him, took risks for him. No one does it alone, he notes. What more is there to say? For more information about Neil and his work, go to www.neilbalm.com.