A New Citizen After More Than Fifty Years
May 2019 - Issue 245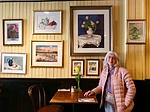 On Friday, April 5, Nan Michelmore, a lively, warm, 89-year-old Palisades resident and an accomplished artist, became a United States citizen at a ceremony in Pomona, New York. She has lived in this country since 1966. Nan described the event for me, saying, "155 people like me from 43 different countries participated in the ceremony, a joyous diverse crowd, different in size, color and sex. I feel sure it was one of the happiest days of their lives." She added, "We now can proudly join in voting and being fully part of our communities as American citizens."
Nanette Michelmore was born in 1929 in Adelaide, South Australia. After graduating from secondary school, she found a job she liked as a hairdresser at a department store and stayed there for four years. In 1949 she met a young man named Peter Michelmore, who swept her off her feet, telling her on their second date that he wanted to spend the rest of his life with her. Peter had also gone to work after high school and wanted to be a journalist. He was bright, ambitious, and hard working. They were engaged for two years and married in 1952.
Nick, their first child, was born in Adelaide. In 1953 the family took a ship to England and Peter started looking for a job as a journalist on Fleet Street. He could only find part-time work, and in 1954 the family left for the United States, where Peter was happy working as an American representative for the Sidney Morning Herald.
Over the next thirteen years, the small family traveled back to London once and to Australia twice because of Peter's career. Two more children, Jay and Tracy, were born in the United States during a four-year stay between 1958 and 1962. They moved to the United States for good in 1966 and lived in New Jersey. Peter became the chief New York editor of the Sidney Morning Herald, but quit his job after expressing opinions against the Vietnam War. He began to freelance, writing a number of stories for the Readers' Digest and other magazines.
After their children left home, Nan and Peter moved to Palisades in 1989, and rented Jane Burdick's house on Lawrence Lane. Two years later, they moved to the Tanaka house on Indian Hill Lane and Nan is still there. Peter, who was diagnosed with cancer while they still lived in New Jersey, died of the disease in 2010.
Nan has always enjoyed creating art, but had little opportunity to use her talent in Australia. Once she moved to the United States she began taking art classes. An artist friend created an art curriculum for her and four friends. They met one day a week for five years and Nan began to show and sell her paintings. She now spends a day a week painting at the Barn in Ridgewood, and recently had a show of her charming, impressive watercolors of people and nature at O'Donoghue's in Nyack.
Nan and Peter both had green cards. They tried twice before to become United States citizens, but both times the long lines and extended waits were too much for Peter. Nan studied for the citizenship examination, which she passed, and says the whole process was much easier this time, with no long lines. Congratulations, Nan.