Obituary--Caroline Abel Lalire
Posted: Nov 30, 2013
- Web Exclusive
Caroline Abel Lalire, 85, who lived in Palisades at three different times in her life, died of cancer September 12, 2013, in her family's house at the Hartwood Club in Forestburgh, N.Y.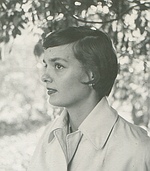 Caroline, known as "Bubbles" to many of her old friends, lived primarily in Palisades from 1941 to 1960, again from 1971 to 1978 and finally from 2012 to 2013 when she returned at age 84 to live with her son Rex Lalire and daughter-in-law Greta Nettleton. Throughout her life, she also lived in Cleveland Ohio, Washington, D.C., and Hamilton, Virginia.
Born on Friday, July 13, 1928, Caroline first came to Palisades as a child from her home in New York City. Her grandmother, Elsie Mead, was a close friend of Mrs. Anna Gilman Hill, who had built Niederhurst, on Ludlow Lane. Caroline's parents, Theodore and Theodora Abel, rented Grey Walls, which was next door, as a weekend house for four years starting in 1934, because her mother, Dr. Theodora Abel, a psychologist, thought the air in the city was unhealthy for her children. Caroline recalled that "at the time, Grey Walls was pretty run down and impractical—an old kitchen and only one bathroom," but nevertheless, she found life in Palisades as a child of 6 to be wonderful. Together with her older brother, Peter, she rode her bike everywhere, sledded down the long Lamont hill, and roamed the hamlet with an unruly pack of kids who boarded at Miss Babcock's house (now the manse for the Presbyterian Church).
After Caroline's younger sister, Zita, was born in 1938, her parents bought a 24-acre tract off Oak Tree Road called Heyhoe Woods and built their own house, selling off the rest of the land in parcels to friends and colleagues from Columbia University, where Dr. Theodore Abel was a professor of sociology. Caroline's parents both had demanding careers. Her father, known to family and friends as "Duffer," became the head of the sociology department at Hunter College and was the author of the groundbreaking 1938 book Why Hitler Came Into Power based on personal essays written by hundreds of Nazi party members he solicited through German newspaper advertisements. Caroline's mother, known to family and friends as Mimi, had friendships with Eve Curie (daughter of Pierre and Marie) and anthropologist Margaret Mead, and was a longtime psychotherapist in New York and New Mexico.
Caroline attended Chapin School in New York City through the eighth grade before going to Nyack High School and graduating in the class of 1945. Among her classmates were Angy Hyde (Joe Hyde's sister), Joanna Gregory (the daughter of the poets Horace Gregory and Marya Zaturenska), Robin Roberts, Judy Tomkins, Joan "Rosie" Rosengren and Janet Price.
At age 14 in 1942, while speculating in her diary on a possible future husband, Caroline wrote, "A Frenchman of a certain type would do." Following undergraduate studies at Bryn Mawr and two trips to Paris where she studied at the Sorbonne, in 1949 Caroline married Pierre Lalire, a student in the scenic design department at the École des Beaux Arts. An American lawyer who helped her cut through the governmental red tape before the wedding kept asking, "Why do you want to marry a Frenchman, particularly one with no socks?"
Caroline and Pierre returned to Palisades in 1950 in time for their daughter Vega to be born in the United States. Pierre began work the next year at Lord & Taylor in New York City as a window-dresser, and Caroline returned to college, graduating Magna Cum Laude with a B.A. from Columbia University in English Literature in 1952, the same year that her second child, Gregory, was born. In spring 1954, they were living in a small white house on Oak Tree Road, and that summer they welcomed in their third child, Rex, into the world. Caroline not only was a good mother but also was beloved by her children's friends, including Louise Tremblay, Beata Lundquist, Robin Solish, Lenny Fernandez, Gaby Diederich, Nicky Ludas, Chris Vezzetti, Tony Gerard and Johnny Wexler.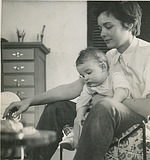 Caroline and her husband somehow found time to play late night poker with Lee and Sally Savage, Margaret and Chappy Diederich, and Jerry Silverman, and Caroline was also an avid tennis player and Sneden's Landing champion with her friend Mary Yates. Caroline's photographer friend Francis Pellegrini asked her to pose as a model in a 1956 picture story for McCall's magazine that purported to show frazzled housewives how to be more attractive for their husbands. "Everyone said I looked better in the before than in the after pictures," Caroline recalled.
In 1960 Pierre became display director for Halle Brothers, a department store in Cleveland, and the family moved to Ohio for 11 years. During that period, Caroline earned an M.A. from Case Western Reserve University and taught high school English. She wrote a PhD thesis on three novels by William Makepeace Thackeray but never completed the last chapter, because she realized that she did not want to become a college professor.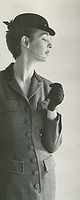 Caroline and her husband returned to Palisades in 1971, acquiring the house on Heyhoe Woods Road from Caroline's parents. She found work as an editor at Viking Press in New York City from 1974 to 1977 in an office down the hall from Jacqueline Onassis, while Pierre worked for Lerner Shops and later for Gimbels. In 1978 Caroline and Pierre moved to Washington, D.C., where he was chief visual merchandiser for the department store Woodward & Lothrop and she was hired as a book editor at the Brookings Institution. She became managing editor in 1983 and after sixteen years, retired in 1994. After her retirement, Caroline lived with Pierre in Hamilton, Va., where she cared for her aged mother and was devoted to her three young grandchildren, Alexander, Louis and Luc Lalire.
A woman of beauty, intelligence and charm, always gallant, calm and poised, Caroline had a genius for relating to family and friends. Jon Guttman, who grew up on Indian Hill Lane in Palisades, remembers that Caroline was a good friend of his father's (the late Paul Guttman). "I came to admire her as much as my Dad did. Bubbles and I both had a thing for the written word, rhyming or otherwise. The last time we met it had come around full circle; she was back in Palisades…even at the end, she always savored each moment that she possessed."
"Most of all I admire the amazing patience and love she shared with her grandchildren during the summers," another friend named Nancy Gravina recalled. "She always seemed to be off on some adventure with them." A young cousin, Aislyn Colgan, summed up Caroline's familial magic this way: "She has always been a light for me whenever we have spent time together."
Please send memorial donations to Defenders of Wildlife, PO Box 1553, Merrifield, VA 22116-1533