Obituary: David Green, 1959-2021
Mar 2022 - Issue 257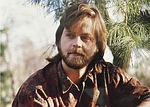 Talented graphic artist David Sutton Green, age 62, died peacefully with family and friends on December 16, 2021 at his home in Orangeburg, New York. He died nearly four years after being diagnosed with a glioblastoma in 2018. He is survived by his wife of 18 years, Mary, his two amazing children Savannah and Dakota, and his first wife, Diana — founder (1999) and long-time artistic director of the Children's Shakespeare Theatre (CST). He is also survived by his parents who live in Charlotte, North Carolina, his brother Ronnie and sister Edie.
Dave attended UNC Charlotte and studied architecture, and then went to The Portfolio Center in Atlanta where he focused on graphic design. He worked as a graphic designer for the rest of his life including the role of designer for all of CST's posters, ads and programs up until its 20th season, after which he was no longer capable of working at the computer.
Dave won numerous awards for his design work, but he was always most proud of those he won for CST posters since those were entirely his own creations. In working with CST, Dave devised some breathtaking images. Some of his work is featured in the book Presenting Shakespeare which contains 1100 posters from theater companies around the world; including three from CST.
Dave was also a talented musician, artist, and writer. He loved to cook and cherished good food. He enjoyed outdoor activities like golf, hiking, and biking. Among his many accomplishments, he summited two of the highest mountains in the world — Aconcagua in Chile and, with Diana's mom Cristina, Cotopaxi in Ecuador.
Dave was inspired most by his children who shared his spirit and creativity. He enjoyed watching them onstage in numerous CST productions and was later inspired to try his hand at some Shakespeare himself. He joined the Strange Bedfellows where he turned in some hilarious performances including Sir Toby Belch, Lucio, and his favorite which was playing one of the twin Dromios alongside his son, Dakota.