OBITUARY: ROBERT STEVENS, 1924-2018
Dec 2018 - Issue 243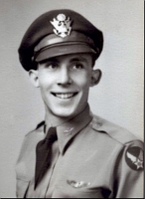 Robert Garrison Stevens (94) formerly of Palisades, NY died on June 26, 2018 in Greenville, SC. Born in New York City on January 26, 1924 to John W. and Matilda (nee Hahn) Stevens, he grew up in New Rochelle, NY.
In 1942 shortly after graduating from New Rochelle High School, the family moved to Sparkill, NY and Bob enlisted in the Army Air Corps. He went on to earn his pilot wings and a commission as a 2nd Lt. and served as a B-17 Heavy Bomber Pilot in 1944-45. Stationed with the 324th Bomb Squadron, 91st Bomb Group (H) at AF Station 121 in Bassingbourn, Cambridgeshire, England he flew 35 sorties against German cities like Dresden, Munich and Essen.

It was on his 23rd flight, over Essen that he lost two engines to flak and had to land in Lille, France on an abandoned German airfield. He was not injured and the Allies controlling the airfield shipped him back to England two days later. He then flew 12 additional missions plus three more looking for the German battleship Tirpitz in Norway. His worst day was in April 1945 over Dresden when he watched as both of his wingmen, bombers on each side of him, were shot down with the loss of their crews. Bob was awarded the Air Medal with five Oak Leaf Clusters and the European, African, Middle Eastern Theater Campaign Ribbon. He retained a commission as a 1st Lt. in the Air Force Reserves until 1951.

Upon mustering out in August 1945 he attended Cornell University. Bob joined the American Cyanamid Company where he specialized in accounting and spent 39 years in various financial management positions retiring in 1985.

He resided for many years in Palisades, and is predeceased by his first wife of 45 years, Lorraine (nee Hill) Stevens. They had no children. In 1992, while attending the 50th NRHS reunion in New Rochelle, he met his former (also widowed) high school sweet heart, Mary Jane (nee Galvin) Mueller. They resumed dating and were married in September 1993 in Binghamton, NY. They traveled extensively for several years. In 1996 they purchased a home in Pawley's Plantation, Pawley Island SC and became members of the Pawley's Plantation Golf and Country Club.

Bob enjoyed golf, surf fishing, hunting, swimming and time spent with his stepsons and their families. He could fix or repair anything including most computer problems and embraced all the new digital technology. He was a life member of the 91st Bomb Group Memorial Association, a founding member of the American Air Museum in Britain and a member of the Presbyterian faith.

After 18 years of enjoying golf and the lovely beach Mary Jane and Bob made a final move in 2014 to the Woodlands at Furman, Greenville, SC. Mary Jane Stevens predeceased her husband on April 1, 2018. Surviving are three stepsons: Craig D. Mueller (Diana) of Bainbridge, NY, Steven F. Mueller (Barbara) of Denver, CO and Richard J. Mueller of Kissimmee, FL, five step grand-children and nine step great-grand children. A memorial service was held on June 30 in Greenville, SC, with later internment in the Hill/Stevens family plot in the Palisades Cemetery, Palisades, NY.