Obituary: William "Bill" Frederic Eberle
May 2021 - Issue 254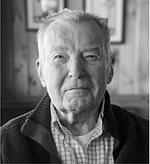 William Frederic Eberle died peacefully in his sleep at his home in Salem, New York on Friday, March 20, 2020, at the age of 93. William (Bill) was born July 10, 1926, in Lyndonville, New York, to Arthur Mills Eberle and Stella Doretta Rynders.
Bill graduated high school from Lyndonville Central School in 1943 and at first had no plans for college. Upon the encouragement of his high school English teacher he applied and was accepted into the Cornell School of Agriculture. After one year at Cornell, Bill was drafted into the U.S. Army and sent to Belgium. After the war, Bill graduated with a Bachelor of Science degree in Bacteriology in 1949 and started work at General Foods in Hoboken, New Jersey, where he roomed with his soon to be brother-in- law Roy Harrington.
While living in Hoboken, Bill met Barbara Lakin Wiese and the two were married on August 16, 1952, at Fort Washington Collegiate Church in New York. They moved to Hackensack, New Jersey and later to Palisades where they raised their family of four children. Bill was a dedicated and loving father to his children, sharing his love of the outdoors with summer camping trips to the Adirondacks and adventurous treks across the country in a motorhome. Bill went to night school at St. John's University School of Law and graduated with an LLD in 1957. He was hired by Brumbaugh, Graves, Donohue and Raymond in Manhattan and worked there for 34 years as a patent attorney defending intellectual property rights for large companies including Lipton Tea and Ripley's Believe It Or Not, and for individuals like William A. Mitchell, the inventor of Pop Rocks.
Full of curiosity, energy and love for life, Bill was involved in many civic activities. He was President of Rockland County School Board, President of The New York Intellectual Property Law Association from 1979 to 1980, a Trustee of the Historical Society of Rockland County, and could always be found manning the grill at the annual Plant Sale for the Palisades Library where he was a board member for many years.
At 65, Bill and Barbara retired to their country home in Salem, New York. Bill was active in the Historic Salem Courthouse Preservation Association, Merck Forest and Farmland Center, and the West Hebron United Presbyterian Church where he became a Deacon. Bill also took up bagpiping and joined the Taconic Pipe Band as its "oldest new student" ever. Bill loved piping and most things Scottish, including an occasional "wee dram" of Scotch with friends or during trips to Scotland.
William is survived by his four children: Elizabeth Meany, John Eberle, James Eberle, and Andrew Eberle; his four grandchildren: Jason, Katherine, Evan, and Mikko; and his three great-grandchildren: Layla, Stella and Cassidy. He is also survived by his brother John Eberle and sister Sally Quintern.