Obutuary: Marian Weber, 1931-2022
Mar 2022 - Issue 257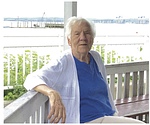 Marian Weber of Palisades, N.Y., passed away at home surrounded by loved ones on Monday, January 10, 2022, at the age of 90. Marian was born in Pittsburgh Pennsylvania to Harry and Lucy Peters.
Her family moved to Fairview New Jersey where she graduated from St. Cecilia High School, Englewood New Jersey. Marian worked at Lord and Taylor in Manhattan in her youth. She loved the energy of the city and spent many years exploring museums and restaurants with co-workers and her sister Pat. While living in New Jersey, Marian met Gilbert N. Weber and the two were married on September18, 1954 and then moved to Palisades where they raised their six children.
Marian was an active member of Our Lady of the Sacred Heart Church in Tappan. She loved the outdoors and often took her children on explorations throughout the state parks of New York and New Jersey. She was active with the Girl Scouts and Boy Scouts that engaged her children in learning about the importance of being part of a community and about the wonders of nature. Along with Nellie Knudson, she co-wrote the charter which led to the Palisades Swim Club.
Marian worked a few jobs before working as a buyer for Columbia's Lamont-Doherty Earth Observatory until her retirement. The equipment she purchased was sent around the world, including to the North and South Poles. After her retirement she volunteered at Nyack Hospital and the Piermont Thrift Store. A dedicated gardener she also knit hundreds of baby hats for distribution throughout Africa. Marian had a profound appreciation for the history of Palisades and its beautiful surroundings and she worked tirelessly to make the roads safe and clean of debris.
Marian is predeceased by her husband Gilbert and daughters Susan and Ruth. She is survived by her four children: Karin Weber-Gauzza, Ellen Caufield, Peter Weber, Joan Weber; her six grandchildren: Jason, Jimmy, Allana, Drew, Nathaniel and Jacob; and great-granddaughter Lila; her sister Patricia Naturale and many nieces and nephews.
"In this life we cannot do great things. We can only do small things with great love."–Mother Theresa