A Profile - Eugene Kohn, Maestro in Residence
Mar 2012 - Issue 216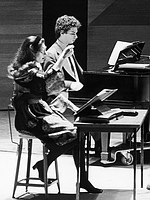 Sure, "Palisades' Got Talent," and plenty of it. But more than a few neighbors wondered where Eugene Kohn had been hiding his when, at a Palisades Library benefit in October 2010, he sat at a piano accompanying the tenor Giuseppe Filianoti who was fresh from a recent production of Offenbach's "Contes d'Hoffmann" at the Metropolitan Opera, and nearly blew the roof off the Community Center.
For many Palisadians, the men's collaboration on Tosti's "L'alba separa dalla luce l'ombra" was their introduction to the prodigious musical gifts of Eugene, who has called Hey Hoe Woods Road home since 2008. But for more than 40 years, opera lovers have known him as an orchestra conductor as well as an accompanist, coach and adviser to acclaimed performers like Plácido Domingo and Andrea Bocelli.
"I have my share of operatic history that I feel very lucky to have participated in," Eugene said on a recent Sunday as he prepared to dissect Massenet's "Thaïs" with Domingo at his studio in the Ansonia at 74th and Broadway.
Lured to Palisades by memories of assisting the conductor Thomas Schippers in the early '70s on Ludlow Lane, Eugene has since nestled into an airy farmhouse where a century-old Bechstein grand piano, its walnut art-case inlaid with mahogany ornamentation, holds court in a music room. There amid the grass and woods, friends like the soprano Angela Gheorghiu have sought sanctuary from the maddening crowds. When he's not traveling, Eugene pursues his other passion, flipping houses, and is currently renovating his second in the hamlet, transforming a small contemporary in Snedens Landing into a large farmhouse.
"I had discovered over the last eight years that I really loved building," he said. "It offers me something that music doesn't because once the notes are gone in a performance, there's nothing left except press reviews or maybe a recording. Whereas when you build something, you can walk on it and lean against it and touch it, and it stays there forever. It gives me a lot of satisfaction. And I've found that coordinating projects with carpenters and electricians and plumbers, and bringing them together in a unified direction, is similar to conducting an orchestra."
Reared on the upper West Side in Manhattan and in Whitestone, Queens, Eugene was five years old when he began to pick out the tunes his mother played on the family piano. He eventually entered the preparatory division of the Manhattan School of Music and by fourteen was accompanying singers. "It was a difficult period in my parents' marriage and as an escape, I went into the opera world," he recalled. At fifteen, he was introduced to Fausto Cleva, a conductor at the Met, and soon began to play for the great soprano Renata Tebaldi during her coaching sessions. "So early on I had these gorgeous sounds in my ear," he said.
It was the bass-baritone George London who recommended Eugene to the legendary Maria Callas, who'd grown weary, she told London, "of these old fogeys always telling me what to do." To which he replied, "Eugene is so young that he's not going to tell you anything. He'll just do what you say." She liked him for precisely that reason. "Unfortunately, I didn't have enough brains at the time to learn as much from her as I could have," he said. "Nor was I able to help her vocally as much as I would have if she'd come across my path now. I regret that."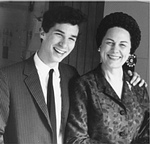 So, too, with Tebaldi, the singer he loved the most. Still, "I began to realize that instead of beating myself up over that, these women didn't need to be helped," he said. "They had the careers that the universe meant them to have, and I feel lucky to have been a part of them. Nobody would have been able to change that destiny."
In turn, Callas and Tebaldi — their infamous rivalry more record-company hype than reality — helped Eugene, he recounted, by "giving me confidence and teaching me about how vocal sounds energized to intensify the musical communication." This contributed to the development of Eugene's own "sound ideal" as a conductor, and he frequently asks orchestral musicians to express the timbre of the human voice through their instruments.
As an accompanist to Callas, Eugene found himself immortalized as the character Manny in Terrence McNally's play Master Class, a fictionalized account of the sessions Callas gave at the Juilliard School in 1971-72. "I think that it's a wonderful theater piece, but it takes a lot of liberties with the personality of Maria Callas," he said. "It portrays her as being much more open about her fears and insecurities in public than she ever was. She was much more guarded than that."
He also plays himself in Franco Zeffirelli's 2002 film Callas Forever, with Fanny Ardant and Jeremy Irons. And those who missed his local performance with Filianoti can find a video of the men in concert at YouTube.com.
Eugene started conducting in 1975 at the urging of Luciano Pavarotti and made his Metropolitan Opera debut in 1980, where he worked for nearly seven years before moving into principal and guest positions for the Bonn Opera, the Puerto Rico Symphony, Teatro Liceu de Barcelona, Deutsche Opera Berlin and the Washington National Opera.
In the early '80s he began working with Domingo, whom he'd known for years, conducting the orchestra for many of the tenor's concert performances and working with him offstage on diction and interpretation. "He's also a conductor, and I've learned a tremendous amount from him," Eugene said. "I think he's one of the greatest opera singers ever, and I feel lucky to have his trust and loyalty."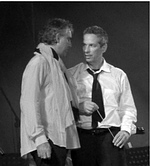 His association with Bocelli began in 2007, after an introduction years earlier by Pavarotti. (Eugene was visiting Bocelli's home on the Tuscan coast in January of this year when the Costa Concordia ship capsized nearby.) "He's a tremendous musician and a wonderful voice and a wonderful human being, and I feel very enriched to work with him," he said.
It's a mutual admiration society. "Eugene is a great musician as well as being a man who lives for music, almost more than me," Bocelli said in a recent interview in Northern Virginia magazine. "It is always a wonderful thing to work with people who still have a childish enthusiasm toward the things they do."
This year Eugene will conduct the orchestra on Bocelli's American tour as well as travel with him to Beijing and Bahrain. He'll also lead the Washington National Opera Orchestra in the Plácido Domingo Celebrity Series concert with Gheorghiu on March 3, and direct Verdi's Don Carlo, with Filianoti in the title role, at Ópera Perú in Lima in May.
Between engagements, Eugene, a proud father of three adult children, will return to Palisades, where Parker, his ebullient yellow Lab, never tires of greeting him, and where a pot of soup can almost always be found simmering on the stove. "I love living in Palisades, and I try to help the community a little bit whenever I can," Eugene said before asking, "Can you find out if anybody has any good soup recipes they'd like to share?"