Recalling Sculptor Francois Tonetti
Dec 2009 - Issue 207
Have you had a chance to visit Kykuit yet, the beautiful Rockefeller estate overlooking the Hudson? I went with a Palisades friend recently. As we toured the gardens, the guide stopped at a fountain by the teahouse, telling us that its sculpture was by Francois Tonetti. The two of us looked at each other, immediately recognizing his name. I knew a bit about his formidable wife Mary Lawrence who was instrumental in turning Snedens into an artist's colony in the early 20th century but I knew little about her sculptor husband and had been curious about his work. It was time to find out more.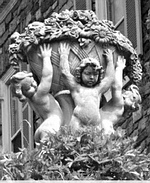 Francois M.L. Tonetti had a dreadful childhood. Born in Paris in 1864, his father died when he was about six. His mother took in laundry to support him and his two sisters, but during the siege of Paris she and his sisters sadly died of starvation. Francois survived by begging.
When his grandfather, originally from Genoa, Italy, had immigrated to Paris with his family, he opened a marble shop. He finally took Francois in and taught him to cut marble. A member of the French Academy visiting the shop saw a statue Francois had done and invited the boy to move in with his family. There he was exposed to artists and writers. When he was old enough he was sent to the Ecole des Beaux-Arts. After school Francois became an assistant to sculptor Frederick MacMonnies who had been an early assistant in the U.S. to Augustus Saint- Gaudens.
Mary Lawrence was also a sculptor, studying with Saint-Gaudens at the Art Students League in New York City then becoming his first woman assistant. When Saint-Gaudens turned down an assignment to design a statue of Columbus for the World's Columbian Exposition in Chicago celebrating the 400th anniversary of Columbus' discovery of America, he recommended Mary who was then twenty five. She modeled the figure in clay then executed it in plaster and a fibrous material. Over twenty-seven million people attended the exposition and saw the prominently displayed figure.
Mary moved to Paris in December 1893, set up a studio, and became part of the exciting bohemian art world. She studied at the Academie Julian – the Ecole des Beaux-Arts did not accept women until 1897. There she met Francois at a ball given by Charles Dana Gibson. Francois has been described as dark and muscular, passionate and temperamental, with great charm. He was quite taken with Mary and when she returned to the States the following year he convinced Mac- Monnies to send him to New York to assist with the completion of sculptures for the Brooklyn Memorial Arch on Grand Army Plaza. Before Francois left Paris, he did a 10 1/2 foot plaster sculpture representing Art, one of eight figures created for the Main Reading Room of the Library of Congress in Washington.
Mary took on small commissions and when Saint-Gaudens moved to Paris she took over his classes at the Art Students League. In 1899 she finally agreed to marry Tonetti. When Saint-Gaudens learned of the couples' impending marriage he commented, "Mary Lawrence is going to marry Tonetti, half Italian, half French faun who was Mac's assistant for many years. He is a regular picnic feller and she is a regular picnic girl and I suppose there will be lots of festive children."
In 1900 Francois and Mary married at Grace Church; she was thirtytwo and he thirty-six. They moved into the former Murray Hill Presbyterian Church at 135 East 40th Street that they had converted into a home with a spacious studio in a space that once housed an auditorium.
The studio doubled for everything from grand dinners to children's parties. The March 1909 New York Times reported, "Noted Women Dance to Aid Shop Girls." The event, held in the studio, raised $600 "to maintain a dancing class for factory and sales girls." Summers and weekends were spent at Snedens Landing where Mary had spent her summer holidays growing up. The couple surrounded themselves with creative friends in the city and the country.
Their first child died shortly after it was born but five more followed. Mary assisted Francois on several projects but her main focus was her family. Francois' first U.S. assignment was a large plaque for the Library of Congress. Tonetti, along with Chester French, Saint- Gaudens and a number of other eminent sculptors, were chosen to create statues for the façade of the U.S. Custom House at Bowling Green and Broadway designed by architect Cass Gilbert (now the National Museum of the American Indian). Francois sculpted the Doge as a representation of Venice and Queen Isabella personifying Spain. He used Mary's mother as a model for the Doge's imperious head. Mary collaborated on this as well as on the "Birth of Venus" fountain in 1901 for the Pan American Exposition in Buffalo.
Among his many commissions, Francois did a beautiful statue of Victory for the Louisiana Purchase Exposition in St. Louis in 1904 and a bas-relief sculpture for the Connecticut State Library and Supreme Court. He also recarved three heads in the entrance arch of the New York Public Library on Fifth Avenue and a mantel and overmantle for the director's room there.
When John D. Rockefeller, Senior's Kykuit was first built at Pocantico Hills, Tonetti did a number of pieces for the house and grounds. Several years later in 1913 when the façade was changed, he was commissioned to design and execute a pediment that runs across the front facade and two groupings of four cherubs holding baskets of flowers that now stand on either side of it atop side balconies. Tonetti's youngest daughter Alexandra was the model for the angelic figures. A statue of Silenus, son of Pan, was rejected by the straight-laced Rockefeller because of its inebriated appearance. Mary finished the figures and oversaw the installation; Tonetti, feeling it his duty, had left to serve in the First World War as a doctor's aide.While there he contacted pneumonia and returned in ill health at war's end, dying in 1920 at the age of fifty-six.
When Mary sold the New York house many years later she had a number of his works brought out to Snedens in the dead of night, had a hole dug and the sculptures buried. The site has remained a secret. Mary died in her beloved Snedens on March 14, 1945. She was seventy-seven years old. Much of the information here comes from Isabelle K. Savell's informative book, The Tonetti Years at Snedens Landing, which can be found at our Palisades library. I encourage you to pick it up if you are interested in more information about this fascinating couple.