A Remembrance of Muna Imady by Her Mother Elaine Imady
May 2021 - Issue 254
One of 10964's most distinguished foreign correspondents is Elaine Imady. Elaine grew up in Palisades in the years following WW II, and her mother, Mildred Rippey, was a beloved Palisades librarian for decades. In the early 1960s, Elaine married a brilliant foreign exchange student in the PhD program at NYU, the distinguished international economist Mohammed Imady, and she has lived in Syria ever since.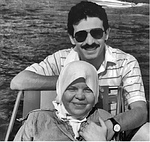 My daughter Muna was not only a writer and a poet, she was a culture preserver. In her first two books, Syrian Folktales and Kan Ya Ma Kan: Folktales & Recipes of Syria and its Ethnic Groups, Muna ensured that the rich, Syrian heritage of oral folktales, folk sayings and recipes would not be forgotten. The words "Kan ya ma kan" mean "Once upon a time" in Arabic.
The first five years of the Syrian civil war – 2011 to 2016 – were Muna's last five years. Muna (and we, her parents) spent these years in Damascus as the Syrian civil war raged around us. What is life like in a city at war? Young men are drafted and sent to the front lines, people disappear, car bombs explode, and worst of all, random shells fall so that no place is safe. How did Damascenes deal with the many cruelties of a civil war? Most of those who could leave, left. Muna stayed on, and in what would be her third book, Damascus Amid the War she described in prose and poetry her city in crisis and how her fellow Damascenes coped with this war that no one expected, and no one imagined would last so long.
Muna died April 23, 2016, twelve days after open heart surgery in an operation with a low fatality rate of three percent, and after which she seemed to be recovering. We were devastated. Her sister Susan and I channeled our grief into finishing her book Kan Ya Ma Kan, which she was working on when she died. Her husband later insisted that we try to publish her war stories and poems, which ended up as the book Damascus Amid the War.
Palisades, the home of her beloved grandmother Mildred Post Rippey, was important to Muna. She took her first steps and celebrated her first birthday in her grandmother's home. She even briefly attended kindergarten in Palisades in the fall of 1967. Her last visit to Palisades was in 1991 when she and her husband brought their daughter Nour to meet her great grandmother.
An early poem of Muna's:
Demode
I wove my cares

into rich cloth.

Embroidered it
with delicate fears.
Cut it out
into a fine dress.
Then, cautiously,
tried it on.
But, astonishingly, the dress
was too tight at the waist
and the dull colors
didn't suit my lively face.
Elaine and her daughter Muna's, books are available at elaineandmunaimady.com