Robert E. Weigel
May 2022 - Issue 258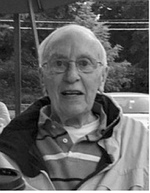 Robert E. Weigel was a resident of Palisades, NY, for over 60 years. He died peacefully on December 8, 2021 at the age of 97. A WWII Army Air Corps veteran, Bob, as all called him, graduated from Rutgers University on the G.I. Bill. He was married to Margaret Harrison (Marge) for 32 years. Margaret predeceased him in 1990. Bob's career as a computer salesman spanned the beginning decades of the computer age. He started his career selling adding machines and ended his career as president of a company that was one of the first distributors of Apple computers.
Bob loved people, and all things quintessentially Palisades: the Palisades Presbyterian Church, of which he was an active member for 60 years, the Memorial Day Pancake Breakfast and Parade, The Filling Sta-tion, and the Palisades Free Library, along with its annual Plant Sale. His family was a founding member of the Palisades Swim Club. Bob also enjoyed spending time with his fellow veterans at the American Legion John M. Perry Post in Sparkill.
Bob was very active throughout his life – he was still driving and going to the gym at the age of 95. He was an avid golfer and loved to play tennis. Later in life, he enjoyed traveling and the company of his dear friend Adeline Esposito of Tappan.
Bob is survived by his four children, Robert (Terry) Weigel, Pamela (Bill) Brennan, Dr. Tracey Weigel and Jan Weigel; and five grandchildren, Alexander, Harrison, Nicole, Mackenzie and Katie.
A Celebration of Life service will take place this spring. In lieu of flowers, the family asks that donations be made to the Palisades Presbyterian Church or the Leukemia and Lymphoma Society www.lls.org