Simon Bergson
Mar 2022 - Issue 257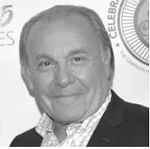 "The American Dream" is a phrase popularized in James T. Adams 1931 book Epic of America. Adams writes, "life should be better and richer and fuller for everyone, with opportunity for each according to ability or achievement regardless of social class or circumstances of birth." Palisades certainly has its share of successful residents, and one in particular, Simon Bergson, easily fits this narrative.
The distinctly successful founder and CEO of Manhattan Beer Distributors, Simon moved to Palisades in 1984 with his family, building his business and expanding his distribution market area. But Simon's story starts long before moving to Palisades, beginning halfway around the world at a time when post-war turmoil would eventually lead his family, and hundreds of thousands like him, to America.
The son of Auschwitz survivors, Simon was born in Hallein, Austria in 1948. As Displaced Persons, Simon's family came to the U.S. in 1949, moving first to Brooklyn's Coney Island and then to Brighton Beach where he spent his childhood. Fast forward to 1975. Simon becomes the owner-operator of a small beverage center in Lower Manhattan. In 1978, the closing of Rheingold Brewery enabled Simon to purchase and acquire local beer distribution rights, and Manhattan Beer Distributors was born. From a franchised beverage distributor operating out of a 4,000 sq. ft. warehouse with 3 delivery trucks, Manhattan Beer Distributors has grown over the past 40 years to 1.5 million sq. ft. of warehousing located throughout their distribution territory, essentially making it one of the largest beer distributors in the U.S and the largest in the metropolitan New York area.
But Simon's "American Dream" doesn't stop with his own success. Manhattan Beer employs almost 2,000 people, many of them, like Simon, hard-working immigrants looking for a better life. The company offers a highly competitive compensation package and excellent benefits, emphasizing the importance of assisting employees' individual and family needs, such as its scholarship program for children of employees, as well as encouraging and supporting their individual growth and advancement in the business.
It's not just employees about whom Manhattan Beer Distributors cares. Climate change and the environment are remarkably high on their list. Beginning in the late '90's, the company was the first privately owned company to convert a portion of its diesel trucks to compressed natural gas, and today has begun moving on to the first fully electric heavy duty Volvo delivery trucks in the area. Two thirds of the company's products are delivered to their facilities by rail, reducing the number of tractor trailers from our roads by about 10,000 per year. LED lighting has replaced conventional bulbs throughout, and solar panels—among the largest privately owned solar installations in the area—cover the roofs of some of the warehouses.
Simon's love of nature and the environment is evident in the large, beautifully wooded tract of land he calls home with his wife Stefany and their three children. His sensitivity and support of our special rural community, his neighbors and the surrounding villages and hamlets were reinforced with his recent four-acre donation to Tallman State Park and the Long Trail. Simon's generosity is cherished not only by Palisades, but by the multi- tude of charities and organizations his family champion.
Simon Bergson - living the "American Dream", the way it should and was meant to be!