A SOLITARY TRIBUTE THREE DECADES IN THE MAKING
May 2022 - Issue 258

It is a solemn, silent ritual that passes almost unnoticed. On a crisp April Day, as he has done every year for more than three decades, Bernie Doyle meticulously places small American flags on the graves of veterans who have served this country and are buried at the Palisades Cemetery. Veterans who served in peacetime as well those from every war since the American Revolution are buried in this peaceful, off-the-road enclave just north of the old General Store.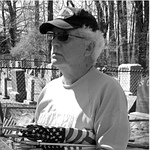 Bernie Doyle is widely known and deeply loved by Palisades residents primarily for more than 30 years of service at the Post Office. Seeing his smiling face through the Post Office window felt like a homecoming. He was always kind and often helpful, with an encyclopedic knowledge of local history, issues and personalities.
A proud veteran of the 25th Infantry Division where he served during the Vietnam War, Bernie was drafted in late August, 1966. And then, with seeming alacrity, in February he found himself in Pleiku—in the Vietnamese central highlands—where he experienced the horrors of war for the first time in his nine-month tour. Trained as a medic, he regularly experienced front-line violence as he helped patch up wounded soldiers and get them loaded into medevac helicopters.
He remembers the swirl of events that led to his descent into the Indochina jungle and the staggering realization that he was far from his familiar Rockland County home. But it was when he saw a skinned Asian tiger stretched across the roof of a two-and-a-half-ton transport truck that the full force of his changed status struck him. He wondered aloud, "Where the hell am I?"
Early in his deployment, under a nighttime mortar attack, his unit took a direct hit. When the casualties lined up for treatment, Bernie noticed "the first people I treated were other medics." He learned that medics were often singled out by the enemy and his strategy was to keep his head down and try to blend in with other infantrymen.
His sensitivity to the real-time situation on the ground left him disquieted, a disconnect that was hard for him to reconcile. He recalled, "We'd load wounded soldiers onto a helicopter…and we were left wondering what happened to them. Did they survive their wounds? Get safely back to the base? Get transferred home? You'd be racing to urgently treat someone who was gravely injured and they'd be swept away. " His life became filled with unfinished sentences
Diagnosed with a hyperactive thyroid, Bernie was discharged unexpectedly in December, just prior to the bloody Tet Offensive in January of 1968. Upon returning to the States, he applied for part-time work at the U.S. Post Office and, beginning in 1970, he worked in industrial settings under commissions from the Postal Service to sort bulk mail. He also did a brief stint at a post office in Utah.
Then in 1979, Bernie began his most famous gig; serving, as he says, "on stage" at the Palisades Post Office window until his retirement in 2007. He whimsically declares, "I've been a practicing psychotherapist for decades." True, that. For many Palisades residents, Bernie became a trusted confidant with whom you could share all manner of topics, great and small.
In the late 1980s, just before Memorial Day, Bernie was asked to help long-time Palisades residents Helene Stansbury and Bill Knudson in placing small American flags on the graves of veterans at the Palisades Cemetery (and some in Rockland Cemetery). For Bernie, it became an annual pilgrim- age. As they both passed on, Bernie inherited the task. He sees it as a way of honoring those who served. At Christmas time, he also places grave blankets on many of the same sites.
Why? His answer is simple. "My feeling is that any remembrance of veterans is a good thing. The Palisades Cemetery is a small, little known place where veterans of all our wars—since the American Revolution—have been laid to rest." And, especially in the early days, he found a certain reconciling comfort in his task; a way to address those half-finished sentences from so long ago. "As I placed the flags, I'd hear stories about the old timers. Just listening to them was important. I'm passing down a tradition. This is the meaning of Memorial Day— honoring veterans who have died in service to their brothers and to their country. It's a privilege, really."