With a Song in Her Heart
Oct 2016 - Issue 234
Carol Stewart fell for her house in Palisades the first time she saw it. "I thought it was charming; when it came up for sale in 2003, I bought it." The house started life as a country store and at one point or another was a tavern, printing shop, grain feed store, butcher shop, post office, and an ice cream shop. It wasn't until around 1970 that it was converted to a private home.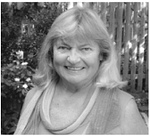 Carol moved to Nanuet from Buffalo after her husband Dwight died, to be closer to her two daughters. She was a tried and true Buffalo girl. "I loved it there. I met Dwight at a 4th of July picnic. Two weeks later we were pinned." Carol majored in Home Economics at Buffalo State and went on to get a Masters in English.
Teaching has played an important role throughout this warm-hearted woman's life. "There have been thirty-eight educators in my family," she relates. Carol taught Home Economics and English before becoming principal of Turner Carroll High School. At the time, only 16% of New York principals were women. When the school closed six years later with funding problems, she headed back to school earning another masters degree, this time in deaf education. She spent six months learning to sign and then taught for two years at St. Mary's School for the Deaf.
When her husband became ill, she once again returned to school, getting a masters and a PhD in Educational Organization and Administration. "I did my dissertation on the adult learner; it was quite helpful when I landed a job at Rockland BOCES as a teacher trainer. Teaching teachers who have preconceived ideas is challenging."
Music has threaded throughout the life of Carol and her family. At four she sang "Over the Rainbow" on a radio show. "I sang throughout school in church choirs and starred in performances at Art Park Summer in Lewiston, N.Y." She joined two Gilbert and Sullivan groups when she moved here. Daughter Sarah is Music Director at Columbia Prep in New York City. "I do the costumes for her shows," Carol says. "The last one was The King and I." Sarah's husband Keith Buterbaugh is a singer and actor who appeared on Broadway in The Phantom of the Opera. Their daughter Kelsey is majoring in Theatre Arts at the University of North Carolina and has the lead role based on Marilyn Monroe in their production of Arthur Miller's After the Fall. Her younger brother Christopher is a musician.
Carol's daughter Kerstin is a teacher and opera singer and has appeared in numerous Gilbert and Sullivan shows. Kerstin's son Matthew teaches music at the Allegro School in Charlotte, S.C.; his sister Rachel is a music major at Montclair. Son Adam, an artist, works for Apple and will soon be presenting Carol with her first great grandchild.
Carol volunteers at the Tappan Zee Thrift Shop, her time credited to the Palisades Library. She served on the Library board from 2005 to 2010. Director Maria Gagliardi relates, "With her experience in education, theater and banking, Carol brought a unique set of skills to the Library board. She acted as secretary, coordinated adult programs, helped revise the bylaws, and chaired the search committee that hired me after Beatrice passed away. I could always count on her as a reliable source of good judgment and support."
In 2006 Carol bought a place on the Cape that had belonged to one of Dwight's three aunts. "I have such fond memories of visiting them. We would picnic on the beach. Aunties would bring cream cheese sandwiches and a large thermos of Manhattans. One was enough to knock me out."
These days you are likely to find Carol tending her roadside garden in Palisades. She is also mastering oil painting and enjoying classes at the Learning Collaborative. "One never stops learning," she says.