Thane Asch 1927 - 2016
Mar 2016 - Issue 232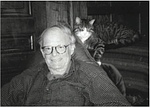 Thane Asch of Tappan, New York died peacefully on Monday, January 18, at home surrounded by his family. He was 88 years old. He was a retired Radiologist and Columbia Medical College educator. A dedicated husband, father and medical practitioner, he devoted his final years to his family and his passions for botany, boating, cooking and bird watching. He moved to Snedens Landing with his family in 1966 and lived there for 40 years. In 2007, he and his wife moved to Tappan, NY.
Born August 3, 1927 in the Upper East Side of Manhattan to Marjorie Asch and Dr. Joseph Jefferson Asch, he spent his formative years in New York City and Westhampton, NY, graduating from Manhattan's Friends Seminary in 1945. He served as a radar instructor for the United States Army Air Force from 1945 to 1946 and then received a B.S. at Colum-bia University in 1951 and a medical degree at Weill Cornell Medical College in 1955.
A pioneer in modern mammography, his medical appointments included teaching and attending positions at the New York Hospital, Cornell Medical Center and for close to 25 years, at Columbia Presbyterian Medical Center where he worked as an educator, radiologist and director of mammography.
He fondly recalled the early summers he spent in Cape Cod sailing and clamming in and around Provincetown harbor both as a boy and later years with his wife and daughters, cherishing a simple nature-centered recreation. His extensive global travels over the years were a great source of inspiration for him, allowing him to connect and be a part of the larger world.
He is survived by his wife, Sheila McConnell Asch; two daughters, Karen Asch of Piermont, NY and Liz Asch of Park Slope, Brooklyn; son-in-law Tom Doyle also of Piermont, NY and his feline companion, Spencer.