Things are Blooming at Bluefiled Farm
Oct 2018 - Issue 242
Each Thursday until frost you can find Joy Macy's beautiful floral bouquets for sale at the Nyack Farmer's Market. They are grown on her Bluefield Farm in Blauvelt.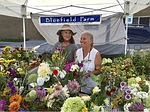 "When my husband John and I decided to move from the city we first found a place in Tappan. We were familiar with the area because John's mother, Hyde, had grown up in Snedens. She was related to the Tonettis who we would visit down by the river."
Twelve years later in 1998, with three kids in high school, the couple searched for a larger house within their school district. They found an historic eleven-acre farm in Blauvelt, christening it Bluefield Farm, the anglicized translation of the Dutch Blauvelt.
In 2003 Joy joined a Master Gardener program offered by Cornell Cooperative Extension and discovered five like-minded people there. "In 2006 we started growing organic vegetables, herbs and flowers on one-and a-half acres of our land. We acquired ten chickens for eggs and three cashmere goats to help clear the fields. We have bees, which Bill at times. Day keeps. He gives bee work-shops at the Pfeiffer Center in Chestnut Ridge and also at our Fall Open Farm Day.
"In the early days we grew everything basically for ourselves and donated what we couldn't use to People to People. To cover the expenses of the farm we started selling our flowers to retail stores. In 2010 when the flower vendor at the Nyack Farmer's Market retired, Rebecca Finnell and I decided to take her place and start a flower business," Joy relates. Early spring there are daffodils, alliums and campanula, then peonies and sweet william. In the summer you can find lilies, delphinium, zinnias, dahlias and sunflowers. "I like to mix in herbs, grasses, and seed pods for fragrance and texture. I save seeds for replanting as well as buy some – I'm always looking for something unusual." One of her sources is Johnny's Select Seeds in Maine.
Gardening is a constant challenge. "This past summer has been so rainy. Who knows what next year will bring. It's so much work. I feel overwhelmed at times. Because our property is bordered by a watershed we aren't bothered by deer but battle groundhogs, bunnies and foxes as well as hawks after our chickens."
"We have an Open Farm Day in the spring just before Mother's Day and again in the fall. This year it was on September 16." There is a farm stand at Bluefield Farm Sundays from noon to 2:00 pm until the first frost around October 20. Excess flowers are donated to Hospice and Soup Angels.
"Kris Burns of Festoon on Hudson and I will be at the Nyack Farmer's Market Wednesday, November 21, with flowers for Thanksgiving and on Sunday, December 2, from 1:00 to 4:00 pm. Kris and I will be collaborating on an Open Farm Day with wreaths and other holiday decoration for sale in the barn."
Joy still sells flowers to local florists and event organizers and occasionally rents the property for film shoots. Recently The Sinners, shown on USA TV, used the location.
Bluefield Farm is located at 690 Western Highway in Blauvelt. You can find Joy on Instagram at joymacy@bluefieldfarm.