Ward Cotthaus
May 2017 - Issue 237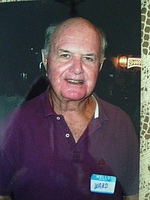 Ward Cotthaus, of Palisades and Highland Mills in New York, passed away on February 20, 2017. He was in hospice care in Stuart, Florida, after a difficult battle with Parkinson's disease. He is survived by his sons, Skip and Glenn, and by his significant other, Arvinda Moore. He also has two nephews in Rockland county, Clayton and Billy. Arvinda, Skip and Glenn were by his side.
He grew up on Closter Road in Palisades and attended Nyack High School. Ward was an avid outdoorsman. He played sports growing up and spent a lot of time hunting and boating. After a tour in the military, he worked for Orange and Rockland until he moved to Florida in the early 1970s, where he drove trucks for various companies. His love for the outdoors continued. He was constantly at the beach or boating.
As he neared retirement, he developed a love of traveling. He was very active in the Gator Snow Ski Club and was a frequent planner and leader of group trips. He and Arvinda also loved to go on cruises. He was very proud of the amount of European countries he was able to experience. He also was very excited about his travels to Asia. He and Arvinda traveled on cruises around a large part of the globe and were often on two to three cruises a year.
Ward was very well known in his Hobe Sound, Florida community, and was especially known for his outgoing personality and generosity towards others. He will be greatly missed by his sons and Arvinda, as well as anyone who was fortunate enough to meet him. His family would like everyone to think about their local hospice organization or Parkinson's research groups as a way to honor and remember Ward's passing. For more information about Ward and his life, please see under Harry Ward Cotthaus III at www.AllCounty.com.