Palisades Community Center News: Oct. 2023
Oct 2023 - Issue 263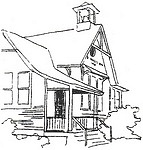 Are you new to the area? Welcome! To those who do not receive our e–blasts, e–mail us at PCC@palisadesny.com to receive PCC and Palisades Alerts.
THANK YOU! THANK YOU!
During this season of thankfulness, thanks to all those who have supported the PCC's restoration efforts this year through membership, financial donations, and attending our events. Thank you, as well, to the Friends of the PCC who lent a hand this year by volunteering their time or donating many quality items to our Community Estate Sales: And to our PCC Friends: The next generation…Arielle & Averie Celona, Lulu & Benji Dickey, Owen & Eric Epstein, David & Tommy Fowler, Hanna & Henry Frasca, Jack & Frank Mullahy, Bella & Nina Vasquez, Wyatt & Jude White
HALLOWEEN FUN! SCARECROWS & PUMPKINS
Sunday, Oct 29, 12:00 to 2:00 pm
Create a scarecrow masterpiece. Carve a pumpkin to take home.
HAUNTED HOUSE
Tuesday, October 31, 5:00 to 9:00 pm
Come One, Come All!
After Trick–or–Treating, get spooked in our Haunted House. Fun for all ages!
Watch your e-mails for more details
CHARITABLE COLLECTIONS:

Hi Tor Animal Shelter:
Old towels, bedding, and pet food (no newspapers)
Martin Luther King Jr. Center, Center for Safety & Change, and Proyecto Faro:
Gently worn, clean coats and clothing for all ages, non–perishable food, and new toiletries. Drop them off on our front porch anytime. Please label your bags.
16th Annual HOLIDAY CRAFT BAZAAR
Saturday, November 18, 10:00 am to 5:00 pm
Handmade crafts by artisans of the Hudson Valley
and Family Portraits
with Linda Epstein
HOLIDAY MARKETPLACE Saturday, December 9 10:00 am to 5:00 pm Antiques, crafts, food and more! For more info: email PCC@palisadesny.com
CLASSES Yoga with Elisabeth Sydor
Tuesdays 5:30 to 6:30 pm E–mail for info: esydor@gmail.com
Youth Art Classes with Lizzy Mayer
Wednesdays 4:30 to 5:30 pm
10–sessions begin October 11
E–mail for registration and info: Lizzymayerart@gmail.com
Board members:
Carol Baxter, President Michele Balm, VP Sunny Park, Secretary Carol Knudson, Treasurer Marco Jo Clate, Sabelle Frasca, Leo Keegan, Erin Mullahy
Rental Coordinator: Eileen Larkin leenog@aol.com 845.359.6589
Website: www.palisadescc.org Email: PCC@palisadesny.com Instagram: palisadescommunitycenterny