Palisades Presbyterian Church News: May 2023
May 2023 - Issue 262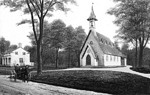 Pastor: Reverend Erin Moore;Sunday Worship: 10:00 am
Tel: 845-359-3147, Email: ppc10964@gmail.com
Website: www.palpresny.org
Follow us on: www.facebook.com/ThePalisadesPresbyterianChurch@palisadespresbyterianchurch
Bible Study - Wednesdays 11:00 am to 12:00 pm (Zoom) Parent Support Group – meets monthly in the evenings Please contact the church office for more information.
EVENTS
Memorial Day Pancake Breakfast
Monday, May 29 from 8:00 am to 12:00 pm
Strawberry Festival
Saturday, June 10 from 2:00 pm to 6:00 pm. Homemade strawberry shortcake, fresh whipped cream, smoothies, face painting and goodies along with music from the Hudson Woodpile.
Rockland PRIDE
Sunday, June 11 at 11:00 am. We will have a booth in downtown Nyack to celebrate PRIDE!
COLLECTIONS
We are collecting diapers, wipes, and travel sized toiletries for the Center for Safety and Change. Items can be dropped off in the wooden cabinet outside the parish hall.
INITIATIVES
We are forming a Racial Justice Taskforce to identify events in Palisades Presbyterian Church history that either thwarted or facilitated racism. The Taskforce will suggest ways to celebrate events that thwarted racism and atone for events that facilitated it. This taskforce will also determine local organizations to reach out to, to better educate ourselves about racial justice and hate issues still important in our community today. Through this, we hope to form partnerships to work for justice throughout our local community and beyond. An Anti–Racism Mission Fund has been created and donations are earmarked for funding local mission projects related to fighting racism and promoting racial justice. To support us in this initiative please contact the church office. If you'd like to donate, you can do so online: at palpresny.org/give–online.