Reverend Robert J. Chase: A Life Well Lived
Dec 2022 - Issue 260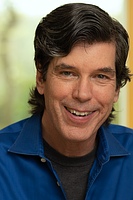 This year marks the 50th anniversary of Reverend Robert Chase's ministry. Throughout the past half century, he has been an author, playwright and award-winning video producer/director with more than 100 productions to his credit.
Bright, thoughtful and deeply committed, Bob is hard to miss at 6'8.'' He grew up in Levittown and went to college at Duke where he played basketball, transferring to the University of Pennsylvania his sophomore year. "I continued playing ball for a year but, realizing that I wasn't that good and that everyone was as tall as me, I quit it my junior year."
Bob became a deacon while in college where he felt called to go to seminary. "I organized three coffee house ministries in Doylestown, PA, Croton, NY and Wayne, NJ where I became committed to working with youth. I was at Penn when Martin Luther King was assassinated; his death solidified my journey towards progressive politics which is foundational to my philosophy and theology." He completed New Brunswick Theological Seminary while working full-time and having his first child.
Bob was a McGovern delegate to the Democratic Convention in 1972. While in seminary, Bob co-founded Willowbrook Ministries, an interfaith storefront in Willowbrook Mall in Wayne, NJ. "We used educational, organizational counseling and interactive techniques as a new way to address troubling issues in the expanding suburbs during the late 20th century." One technique was "improvisational theatre," working with troubled youths to help them attain self-esteem. They produced three musical comedies, which toured the NY metropolitan region, ending in off-Broadway runs.
Bob served as youth minister at the Packanack Community Church in Wayne, then became the pastor of the Presbyterian Church of Teaneck in 1975, which at the time had no ethnic majority. His first book, Diggs, published in 1980, focuses on the murder of a family in his parish.
After serving in Teaneck for eight years, Bob left congregational ministry to form Creative Connections in Media, a full-service communications company. "I visited mission fields all over the world from South Africa to Barrow, Alaska. It expanded my worldview exponentially." His company grew to a million-dollar business. However, deeply committed to quality and going the extra mile without compensation, the business failed in 1996. He then became the interim pastor at the Palisades Presbyterian Church. "The church had a reputation for intellectual spirituality and a commitment to LGBTQ justice. It was the right place for me. I was going through a divorce at the time and met Blythe Anderson there. We married in 1999 and, upon my retirement eighteen years later, moved into her Palisades home."
"I became director of communications for the United Church of Christ, one of my company's largest clients, known for its progressive social justice. I transferred my ordination from the Presbyterian Church to the UCC because of the Formula of Agreement. This document allows clergy from four denominations – The Presbyterian Church (U.S.A.), the Reformed Church in America, the Evangelical Lutheran Church in America and the United Church of Christ – to honor the credentials of one another's denominations. I could serve in any of those denominations without changing my ordained status."
While at UCC in the early 2000's, Bob's office developed the UCC's identity campaign, "God Is Still Speaking." "It is something for which I am truly proud. The comma became its symbol and, to this day, UCC churches countrywide are adorned with banners and posters that include commas and phrases. It is based on the quote from Gracey Allen: Never place a period where God has placed a comma. We embodied that notion into the phrase: 'God is still speaking.' The idea that God is still revealing divine truth is a pillar in my theology. In 2007, for UCC's 50th anniversary, we hosted an all-day event in Hartford called 'Synod in the City,' with sixty workshops, lectures, presentations and plays. Billed as From Bill Moyers to Bubblemania, about 10,000 attended. Barack Obama, early in his Presidential run, was a keynote speaker."
Bob left the UCC to be Founding Director of Intersections International, a global, social justice initiative of the Collegiate Church of NY. "*The Formula of Agreement served me well because the Collegiate Church was part of the Reformed Church in America, which denied LGBTQ equality. I wouldn't have assumed the position if I would have had to switch my ordained status, but because of the Formula of Agreement, I could remain in the UCC and still answer a call in the RCA (and the Palisades Presbyterian Church 15 years later)."
Intersections mandate was to bring people together across lines of difference, working in four primary areas – healing the rift between the Muslim and non-Muslim worlds, bridging the military/civilian divide, seeking justice for LGBTQ folks in the church and using the arts as an instrument of social transformation. "I spent a lot of time in central Asia – Kazakhstan and Pakistan. Though Intersections no longer exists, several programs we started there continue, now under the auspices of different organizations."
Since his 2017 retirement, his book Beyond the Comma was published. He became a U.N. Center Fellow at Seton Hall University's School of Diplomacy, continuing his Pakistan work, teaching students about misconceptions of Pakistanis. A play he wrote years ago, Let Me Fluff Your Pillow, had its NYC debut. Bob joined the staff of 10964 and is also writing a weekly blog that offers commentary on today's political and social realities. For the past three years, he has been working on an original musical that will hopefully be performed in early 2023. Retirement, really?