Cellen Wolk, Our Garden Guru, Talks about Gardening
Mar 2018 - Issue 240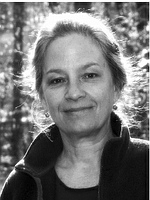 "My mother was obsessive about gardening but it wasn't until I lived in Los Gatos, California, with its perfect garden weather, that I became interested in gardening. Afterwards, in places along the way, I found myself tutored by like-minded women sharing a spirit of collaboration and experimentation," Cellen states. In 1995 she opened Hey Hoe Garden Design with Neal Harris and when Harris retired in 2013 she continued on her own.
"What I like about gardening is that it's not static. Climate conditions change; it is rainy one spring dry the next. You need to adapt. People around here like informal gardens; I do too. Each garden reflects its owner and, of course, a space has its own demands." Here are some gardening tips from Cellen.
What zone are we in?
"I would say 7. Interestingly, it's about a half zone warmer closer to the river. Fig trees in protected spots don't need wrapping there while up at my place in Heyhoe Woods they do. I spray an antidesiccant like Wilt-Pruf on broad leaf evergreens in December. Some plants should be protected from the drying effects of winter wind and sun."
Do you have a favorite nursery?
"Though I often buy directly from growers, I think it's important to support local nurseries. Cleatus Farms (236 Livingston, Northvale) has a good inventory; you can find almost anything you want. Although they are small, they own a large property upstate. The staff is knowledgeable and the prices reasonable. Down to Earth (1040 Route 45) in Pomona has fresh, well-priced plantings; then there is D'Ercole (489 Tappan Rd., Northvale) and Riverside Nursery (237 Ramapo Valley Rd.) in Oakland, N.J. with a nice selection."
When should fertilizer be used and what kind do you prefer?
"Early spring is the best time then again lightly mid-summer. I use all-purpose Milorganite. It's balanced and inexpensive. It's produced by treating sewage sludge and is a mild deer deterrent. I use Holly-tone for acid-loving shrubs. For pots filled with annuals I use a slow-release potting soil like Miracle-Gro along with a quick release fertilizer that I apply every two weeks throughout the summer."
How do you control deer?
"Unfortunately the best way is a mesh barrier. I do a lot of screening where the plants must be deer resistant. It's a major problem because the list of plants deer don't eat gets shorter and shorter. They may avoid spruce, white pine and cryptomeria at one location but not another. When spraying, I use Liquid Fence but you need to change off."
What plants and trees do deer tend to avoid?
"American holly, skip laurel and boxwood seem to still be ok. Hellebores, daffodils, grape hyacinth, alliums and fritillaries are good. Poisonous plants like peony, monkshood and foxglove are safe and deer don't eat salvias either but groundhogs do."
Any thoughts on planting bulbs?
"Our perennial gardens come into full bloom in May. Bulbs, which can start blooming in March, are a wonderful way to extend blooming time. There are tulips that are available for early, mid and late blooming. Plant early ones in shallow ground and late ones as deep as 10 inches. I love to choose different color schemes for each period starting with pales then vibrants then back to pales again."
Do you have a preferred ground cover?
"I like vinca minor and plumbago. I find deer are now eating pachysandra."
Any closing words?
"I wish there could be plant swaps, a way people can share plants they divide and can't use or want to replace. I hate to throw plants away and try to find new homes for everything I dig up."
HEY HOE GARDEN DESIGN does overall garden design and maintenance; builds walls, walkways, patios and screening; installs deer fencing and resolves drainage problems.
To contact Cellen Wolk, call 914-588-3522 or go online at cfwolk@gmail.com.