One Gardener's Thoughts
May 2017 - Issue 237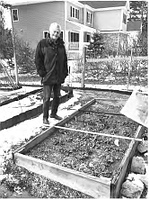 Hannes Brueckner's vegetable garden, which lies amid a spacious lawn behind his Route 340 home, is seldom from his thoughts. A scientist by profession, Hannes is a geochemist and geochronologist. After an undergrad degree at Cornell, followed by a masters and a Ph.D. from Yale in 1969, Hannes joined the faculty of Queens College of the City of New York, where he remained until retiring in 2010. He also became part of Lamont Doherty's research staff in 1969 and continues there as an adjunct senior research scientist.
From his early student days, Hannes has been involved in studying deep mountain systems, in Norway and Greenland primarily, where upper layers have eroded to reveal deep earth processes that illustrate how they had been formed. Hannes describes himself as a hunter/ gatherer. "I love being outside, hiking, gathering mushrooms, but I never gave much thought to gardening until I met my wife Mary Ann in 1977. She was outside digging in her garden so I joined in." He has kept at it ever since. We asked Hannes to tell us about his garden.
What do you grow? "I grow every vegetable that can be grown in this area and attempt some like artichokes that can't. With global warming we should be able to grow more warm weather plants."

Do you have any favorites? "Tomatoes. I grow a large variety of hybrids and three to four kinds of heirlooms. Heirlooms are harder to grow because they are more susceptible to blight but they taste better."
Do you start from seeds? "Yes, my winter occupation is going through seed catalogs. I'm always on the lookout for new heirlooms. I order most of my seeds from Burpee, Guerney's and Jung Seeds. I save seeds from my heirlooms but hybrids are bred so that you can't save their seeds."
I know you built a cold frame. What do you plant in it? "Actually I built two. I use them for cold weather vegetables like lettuce and spinach that can't take a frost. Other more hardy ones like cauliflower, broccoli and cabbage are started inside then planted outdoors as soon as the snow melts and the soil gets a little warmer. In the fall I start seeds indoors in containers filled with potting and seed starting soil and place a grow light over them and a watering pan below."

"I'll have three kinds of spinach, eight of lettuce. When they are about an inch high I transfer them to the cold frames, which have ¼ inch Plexiglas sheets over them. I pretty much forget about them, but if we have a warm day, I'll remove the Plexiglas and water the plants. They are ready for harvesting in early spring." How about warm weather plants? "I start seeds indoors as well, usually around April – eggplants, peppers, tomatoes – then plant the seedlings outdoors when I am sure we've seen our last frost."
Do you use any fertilizer? "I have two compost heaps, one with leaves and the other with leaves layered with grass, which I keep watered and turn every few weeks. I seldom use a fertilizer, but if spinach or lettuce leaves are yellowing, I add a nitrogen-rich fertilizer."

Have you fenced your garden in? "I have four-foot wire fencing with fishing line strung around about a foot above that, which discourages the deer."

Planning any changes to your garden? "I want to experiment with raised beds so I won't have to bend down."

Any parting words? "Gardening is therapeutic. When I'm stressed I dig in the soil and it calms me down."

Lucky Lamonters. They get to share in the excess of Hannes's rich bounty.