Riverkeeper Weighs In on the Battle of the Phragmites
May 2018 - Issue 241
The following are excerpts from a letter sent from Riverkeeper Patrol to Betsy Blair, the Hudson River National Estuarine Research Reserve Manager, concerning plans for the Piermont Marsh.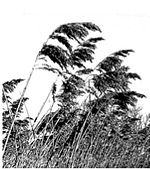 "...Given the clearly stated opposition to the use of herbicides voiced by Lamont-Doherty Earth Observatory researchers…deep reservations voiced by the Piermont Village Board, and by Piermont residents… Riverkeeper cannot support the use of herbicides in Piermont Marsh. If any restoration project is to go forward, other methods of eradicating phragmites must be investigated and implemented…
..".While the mitigation funding was originally designated for marsh "restoration," we feel that marsh "survival" is the more pressing need at this time…our priority must be to ensure that the marsh survives sea level rise so that it will continue to provide vital ecosystem services to the region as well as the quality of life and storm buffer protection it offers Piermont. We recommend that the DEC should consider revising the existing draft plan - which has become so contentious. The funding should be redirected from "restoration" of the marsh to "preservation." ...The knowledge we gain here in the Hudson Valley while protecting our marsh from inundation will benefit othersacross the nation as they strive to protect theirs.
"We look forward to working with the DEC and the Village of Piermont to ensure the health and future of Piermont Marsh."