Rediscovering the Garden: Portraits of Flowers, Vegetables and Found Objects
Oct 2010 - Issue 210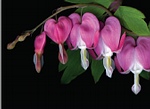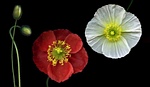 Designer and photographer Mary Tiegreen has been capturing the images of seasonal visitors to her Palisades garden since moving here nearly 17 years ago. Her garden mentor was Joe Hyde, who lived life with great enthusiasm and gardened in the same manner. That first year, upon finding out that she knew nothing about gardening, Joe arranged to have 2500 tulips and daffodils planted in her yard. The next year he brought her bleeding hearts from his garden, and the year after that, maidenhair ferns. They return every year, a reminder of Joe and his love of plants.
Another person who inspired her love of flowers and gardens was Margaret Anderson. Margaret helped organize the Palisades Library plant sale each spring, and always had a variety of rare and special plants to sell. Mary still has a giant Rose of Sharon bush that began as a cutting from Margaret.
Mary tells us "After living in Manhattan for many years, we moved to Palisades and I rediscovered nature in a very big way. The garden brought me back again to the way I saw the world when I was a child, and I found a sense of wonder that I had misplaced long ago."
For a show at the National Arts Club in New York last June, Mary enlarged the images on stretched canvas, some as large as 40 x 60 inches. One of her favorites, "Fireball Tulip," is now in the National Arts Club's permanent collection. "Wonderland Harvest," an exhibit of her vegetable portraits, is on display at the Freelance Café in Piermont until mid-October.
To view Mary's work online, go to http://www.tiegreen. smugmug.com/ where you'll find over 80 color images of flowers, vegetables, and found objects.