Some Spring Plant Sales in Rockland and Westchester Counties
Mar 2006 - Issue 192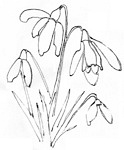 Palisades Library Plant Sale

Saturday, May 13 at the Palisades Community Center (675 Oak Tree Road, between Rt. 9W and Rt. 340)
10 a.m. to 2 p.m.
This annual event features fun, food and plants.
Wildflower Native Plant Center
Wildflower Native Plant Center at Winchester Community College Help save native plants and beautify your garden too! On Saturday, April 29th, the Wildflower Native Plant Center at Winchester Community College in Valhalla N.Y. will host its annual plant sale. This event is a great way to buy beautiful additions to your garden, whether it be a woodland environment or in a sunnier locale. The sale also supports the legal propagation of native wildflowers and other plants threatened by habitat loss, over development and other factors.
Reading the list of plants sounds like a recitation of poetry fragments. Fireweed, Dungeness Rose, Quaker Ladies, Willow-leaved Mountain Mint, Lady Slipper Orchid, Yellow Trillium and other rare plants range in price from $6.50 to $40.00. These are plants that evolved right in our area and are therefore tough and resilient and will naturalize easily. They also lend a magical, delicate quality to plantings.
The sale is a so popular that you must arrive the minute it starts to find a good selection. Many people pre-order, but that deadline of March 1 has already passed.
Get on their mailing list for next year:
The Native Plant Center
75 Grasslands Road
Valhalla, New York 10595.

The Native Plant Center is the first national affiliate of the Lady Bird Johnson Wildflower Center in Austin, Texas. The Center offers lectures and maintains the Lady Bird Johnson Demonstration Garden on campus containing native species that thrive in the Northeast.
Bartlett Arboretum and Gardens
There are ninety-one acres of formal gardens, wildflower meadows and red maple wetlands here.
www.bartlettarboretum.org
151 Brookdale Road
Stamford, Connecticut 06903
203-322-6971

Saturday, May 13th
10:00am to 3:00pm
Perennials, trees and shrubs.
Lyndhurst
Lyndhurst — Two sales, on May 6 and on May 13.

The Gothic mansion is surrounded by 76 landscaped acres, and includes lovely fern and rose gardens. Sales are held at the Greenhouse.
www.lyndhurst.org
635 So. Broadway
Tarrytown, N.Y. 10591
914-631-4481
The Rock Garden Society
Saturday, May 6
10:00am to 2:00pm
Featuring hard-to-find-perennials, woodland plants and alpines along with trough containers.
The Garden Club of Irvington-on-Hudson
Saturday, May 13
10:00am to 2:00pm
Yearly sale of annuals and perennials by knowledgeable Garden Club members.
The New Jersey Botanical Garden at Skylands
Skylands estate has a Tudor-style house designed by architect John Russell Pope for investment banker Clarence McKenzie Lewis. The 96-acre botanical garden is open every day.
Ringwood State Park

Morris Road, Ringwood, N.J.
973-962-9534 or 962-7527
Saturday and Sunday, May 6 - 7, 10:00am to 4:00pm
Perennials, annuals, trees, shrubs, vegetables, herbs.