Calling All Women to Join for a Cause
May 2017 - Issue 237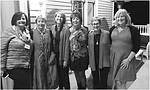 "It all started with an idea, a bunch of passionate broads and a little wine," says Donna Schmidt, a member of the Planning Committee for Women Dine for a Cause (WDFC). Liz Kallen and Paula Davis were the first to come up with the idea to support local Rockland County non-profits with an event every other month at someone's home or a community gathering place. The non-profits selected would be those that support women, children and families. They quickly roped in Rochelle Spooner, Donna Schmidt, Emily Dominguez, Kathy Jaffe and Sandy Weiner, all of whom now work tirelessly for the organization. "This is the most dedicated group of people with whom I have ever worked," comments Liz Kallen. "Each of them works on the events as if it was their own private event. It is extraordinary!"
Women Dine for a Cause held their first event in September 2014. These bi-monthly potluck events now draw between 75 to 100 interesting, lively women ranging from those in their early twenties to seniors who arrive with an offering of food and a check for the sponsored non-profit. According to Schmidt, "The women eat, drink a little wine, talk, laugh, listen to beautiful music, dance and learn what is going on in Rockland County with the sponsored non-profit. The organization has run across gracious, inviting hosts/hostesses, entertainers who never take a penny for performing, and a professional photographer who is at each and every event."

Last September the group celebrated its second anniversary with the announcement that, to date, they have raised an impressive $40,000 for non-profits in Rockland County. This past March, WDFC came together - appropriately on International Women's Day - with a sea of red clothing on those in attendance, in a beautiful Nyack home to support People to People, the largest food pantry in Rockland County. They raised $5,000 for this worthy cause.
Each gathering has entertainment provided by talented musicians, vocalists, and film producers like Grammy award winner Tom Chapin and Michael Mark, composer of Entertainment Tonight's theme song and a cast member in the Broadway musical, I Love My Wife. All volunteer their time and talent to Women Dine for a Cause.

On May 17, the group will be sponsoring Children of Promise Stable, which provides equine-assisted activities and therapies, enriching children with special needs through a diversified equestrian riding program. The event will be held at the stable located at 135 Convent Road in Nanuet from 6:00 pm to 8:00 pm. The theme is the Kentucky Derby so, ladies, get out your wildest hats and your boots!
Other organizations that have benefited from WDFC's events include United Hospice of Rockland, Soup Angels, Big Brothers/Big Sisters, The National Alliance on Mental Illness, The Rockland Farm Alliance, Center for Safety & Change and Child Care Resources.

"Life is complicated," Schmidt adds, "and moving forward faster than any of us can capture. In two short hours we allow you to sit back, talk with friends – or make a new acquaintance and go a little back to a simpler time when food was shared not just with family, but with extended friends. We promise, you will enjoy your time spent at our events."

Go to womendine.net for more information or call 914-582-9439. Bring a potluck food item or bottle of wine, case of water and a donation, and join the cause. (Please note, no wine is allowed at the upcoming May 17 event.)