PALISADES COMMUNITY CENTER NEWS: December 2016
Dec 2016 - Issue 235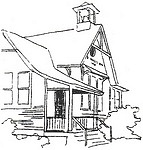 Palisades Community Center (PCC) News
www.Palisadescc.org
Palisades Indoor Winter Farmers' Market Returns for our 9th season!
Saturday, Jan 14 9:00 am-1:00 pm
We are lining up our favorite farmers and have a waiting list of new guest vendors. We will be adding special events and workshops to our schedule, so stay tuned! We are pleased to not only make available to you just-picked, local produce and artisanal food products but to offer you a cozy gathering place during the cold winter months.
Your patronage enables us to bring the farms to you every Saturday! See you!
MARK YOUR CALENDARS!
9th Annual HOLIDAY CRAFT BAZAAR
Saturday, December 3 10:00 am-4:00 pm
Featuring quality crafts by artisans of the Hudson Valley.
16th Annual CHRISTMAS CAROLING & PIZZA PARTY
Thursday, December 22
Meet at 11 Horne Tooke Road at 6:00pm sharp. Sheet music provided.
Carolers will sing thru the streets and then bring holiday cheer to the Esplanade and Jawanio ending at the PCC for a Pizza Party.
For further info: miepbalm@aol.com
BECOME A 2017 PCC MEMBER!
Your membership is VITAL to the restoration efforts of this historic schoolhouse.
Membership (please circle): $50 Family $35 Individual $20 Senior Citizen
Additional donations to our Restoration Campaign are greatly appreciated! We are getting closer to installing an ADA compliant bathroom and an approved kitchen. Your additional financial donation will help to make this a reality!
Additional Donation (please circle) $25 $50 $100 $250 $500 $1,000
Name:_

Address: _
E-mail: _ TOTAL: _ Thank you!
Checks payable to: Palisades Community Center P.O. Box 222 Palisades, N.Y. 10964
The Palisades Community Center, INC is a 501 (c)(3) not-for-profit organization.
Palisades Community Center
Board members:
Carol Baxter, President
Alice Buchanan, V. P.
C. Andrew Nelson, Treasurer
Carol Knudson, Secretary
Michele Balm
Mary Ann Brueckner
Lyn Fowler
Dr. Leo Keegan
Dr. Jeff Levine
Honorary Board member:
Dr. Virginia McCauley

Rental Coordinator
Eileen Larkin
359-6589
Ileenog@aol.com
Mailing Address
PO Box 222
Palisades, N.Y. 10964
Join our e-mail list for schedule of events and Palisades alerts:
PCC@palisadesny.com
PCC Website
www.Palisadescc.org
Farmers' Market website
www.Palisadesfm.org