Tallman Mountain and Palisades Safety Alert
Mar 2021 - Issue 253
I used to belong to a gym. I went to classes including spin, weightlifting and barre. The pandemic hit; gyms closed. I joined the strolling, loping, jogging, walking, biking, hiking and otherwise displaced formerly fluorescent-lighted gym-goers outside in our forest, Tallman Mountain State Park. I began trekking there and always parked in the dirt lot off 9W. It is always very crowded. Cars stretch for nearly a half mile some weekend days. According to New York State Park attendance figures, in 2019 Tallman had 361,922 visitors. Contrast that with 2020. Last year Tallman attendance exploded to 545,969. Locally this is only exceeded by Bear Mountain State Park which has over 2,000,000 visitors annually.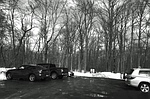 All types of people who previously never spent any time in the park now make it a regular routine just like me. This includes criminals. Yes, we are told to lock our cars, to keep our valuables out of site. But that will not keep a criminal from taking a chance on you. Sometimes I'd see a State Park police car and an officer speaking with someone in the lot when I returned but never gave it much thought. That is, until one fall afternoon when I returned to the car and saw a woman frantically pacing back and forth. On this fall day as many as seven cars were broken into. It was a "smash and grab." This woman had her car's passenger window smashed and her purse, cell phone and about $400 in cash stolen. There have been an increasing number of these incidents in that lot.
I filed a F.O.I.L. with the New York State Park Police Hudson Valley District Headquarters, Palisades Zone requesting data on reported crime in Rockland County State Parks, in particular Tallman. As of this writing I am still waiting for the data set. The Park Police that serve Rockland County are based at Bear Mountain. Response time is long unless an officer happens to be in the area. This is because when a 911 call is placed from Tallman it first goes to the Orangetown Police dept which routes the call to the Park Police. One officer told me that there are between 150 to 200 officers handling calls. That may seem like a lot but the Hudson Valley District of the Park Police covers not only Rockland but Orange, Sullivan and Ulster Counties. The department is understaffed and increased need means these hardworking officers are spread too thin. The 9W lot is a target for crime. As a park officer told me: there are no cameras, it is secluded and has quick access to 9W and the Parkway. He suggested parking in the main lot at all times.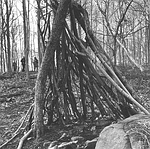 There are many other types of mischief that happen in the park. For example, perhaps while hiking you may have seen the clever teepees made of fallen tree branches. Initially, there was one, but now there are a few. They are charming and alluring. Recently one of my hiking friends smelled smoke coming from one of these structures and investigated. There were embers still smoking from a small campfire that someone had started. My friend (a firefighter's daughter) stayed to extinguish the embers until they were completely out. She then reported the incident to the Tallman Park management office. On another occasion hikers came across a young man sitting inside one of these wooden teepees with a campfire going. He held up two-gallon jugs full of water he'd brought to put out the fire when he was leaving. This too was reported. This is an illegal, dangerous situation that puts the forest we love and all nearby homes and the 9W Market at great risk.
Use caution in the park and the surrounding area. Be alert and don't ignore suspicious activity. Report it immediately to 911 and the Tallman Park office. We can do no greater service to our beloved park than to look out for it and for each other as residents and patrons of the grandest cathedral in Palisades.