PALISADES PRESBYTERIAN CHURCH CALLS THE REVEREND ERIN MOORE
May 2022 - Issue 258
At a Special Congregational Meeting on Sunday, March 20, the Palisades Presbyterian Church called The Rev. Erin Moore, 36, to be its full-time pastor. Rev. Moore will begin her work on May 15 which marks the first time since the Covid-19 pandemic that the congregation will have a full-time pastor. Upon announcement of a positive vote by an overwhelming majority of members present, Erin was greeted with a rousing ovation, indicative of the congregation's enthusiasm for her call.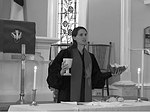 Raised in Jefferson, a small town in northwestern New Jersey, Erin was baptized, attended Sunday School, and confirmed at Oak Ridge Presbyterian Church in West Milford. Her undergraduate years were spent as a biology major with a concentration in animal behavior studies at York College of Pennsylvania. She then worked for three years as a quality control technician at a small biomedical company in northern New Jersey. A Muslim co-worker at her job helped her realize her gifts for ministry and suggested a radical vocational shift, encouraging her to go to seminary. In re-sponse, Erin enrolled at Princeton Theological Seminary and graduated with a Masters of Divinity in 2014. It was at Princeton Seminary that Erin first felt fully accepted and affirmed for what she had already accomplished while challenged to aspire to even more.
Shortly after graduation, Rev. Moore received her first call; the First Presbyterian Church of Chester, NY, where she served for eight years. Shortly after arriving in Chester, she was confronted with a major financial challenge within the church. She deftly navigated the interpersonal dynamics in the wake of the incident. Working through those intense issues further solidified her sense of reliance on the grace of the community to navigate interpersonal dynamics during times of stress.
Once the dust settled at First Presbyterian, Rev. Moore helped the congregation restore an old chapel, officially dedicating it as a space for the arts in 2018. She worked tirelessly to form community connections and helped expand the food pantry run by the deacons of the congregation to a community-supported endeavor, including having its own board of directors.
Rev. Moore shared her passion for small church ministry with the search committee in Palisades. It is in these intimate congregational settings, she believes, where transformational change can happen in the lives of individuals, families and whole communities. Yet, she has also seen how the church sometimes mistreats those who are "different." When her brother came out as gay, she witnessed first-hand how he endured on-going "scolding" from the church because of his sexual orientation. At the time, the Presbyterian Church had strict exclusionary policies limiting LGBTQ persons from ordination as elders, deacons and ministers (this has since changed). Rather than ignore or accept these exclusionary policies, Erin doubled down on her commitment to radical hospitality where all are welcome and it has been a cornerstone of her theology and practice ever since.
Music has always been an important part of her life, allowing her to escape the 24/7 rigors of ministry in a small congregation. In college, she played flute in the concert band and sax in the marching band. She considers music "a real stress reliever," giving her "connectivity to something deeper in life."
She met her husband, James Peterson, during her time at Chester. James worked on his family's dairy farm in rural Chester and has since become a welder. The two had a pandemic wedding in August of 2020 and have two cats, Bruno and Beaker. A lover of the outdoors (and the Palisades Church's bucolic setting), Erin enjoys gardening, hiking, camping, cycling and crafting.
Rev. Erin Moore expresses an earnest enthusiasm and a profound joy about walking with members of the Palisades Presbyterian Church as they emerge from the pandemic to make the church a community hub; a place of information, inspiration and action for everyone. "I look forward to doing something new together," she says. She is aware of the rich and varied skills among Palisades residents and the depth of creativity that has historically been found here. She looks forward to engaging all residents in meaningful community-wide initiatives and she is confident that her tenure will allow her to "breathe fresh air" into this ministry—not just for the church, but for the whole community as well.