Abram Demaree Homestead
Mar 2015 - Issue 228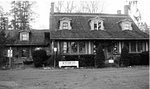 At the corner of Old Hook and Schraalenburgh Roads in Closter, a hand-lettered sign reads: "Think of me as you pass." Mary Crain, president of the nonprofit Abram Demaree Homestead, would like you to think about the history of these fourteen acres, continuously farmed since the 1750s. She would also like you to think about pulling in and visiting the farm stand, where the flowers and produce grown there, as well as baked goods from the new kitchen, are sold to support the Homestead.
If you face the 1800s barn, painstakingly transported seven years ago from Park Ridge, you'll be able to picture how the area must have looked before the suburbs crept up all around. The barn is now a "buy and sell" shop as is the gable-roofed, sandstone block Dutch Colonial home that sits next to it. Mary's daughter, Esther, is continuing the tradition of maintaining traditions with her Ephemeral New York website. Her new book, New York City in the Gilded Age, features hundreds of exceptional, rarely seen photos from the archives of the wonderful New-York Historical Society. It's packaged with 50 stereographs and a stereoscope viewer, providing a truly 3D look at the city in the late 19th century.
The Abram Demaree Homestead Farm stand, Old Hook and Schraalenburgh Roads, Closter; (201) 385-7309. Open Tuesday to Sunday, 10:00 am to 5:00 pm in summer. Saturday and Sunday only in winter.