Bob, Oscar and Me
Mar 2023 - Issue 261
Rockland is a magnet for people who work in the arts without getting sucked up into the Hamptons ethos. I have a special respect for a celebrity who has the means to live wherever they want but chooses to live among us.
This local celebrity story isn't about Bill Murray or Angelina Jolie. Nor is it about the celebs I;m fortunate enough to consider friends. It's about a kind, unassuming man who initially came across as just one of "the people in your neighborhood."
It was early March, 2020. With a mysterious virus spreading overseas, it was an especially worrisome time. So I did what I normally do with my worry: I retreated to the forests and parks that make Rockland the sanctuary it is. On my long, meditative walks, I often trek through Tallman Mountain State Park.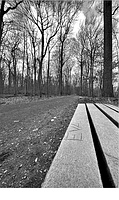 One frequent stop in Tallman is at what I call the "Evan Bench." (Someone carved the name "Evan" into the seat.) This time I saw an elderly couple relaxing there. After a few minutes, they got up and began walking slowly away, so I started to move in. I sat and started some deep breathing exercises. Then, the man spoke up – a gentle, inquisitive soul.

"Have you lived here long?" he asked.

"Yes, I have, almost 25 years."
"We just moved here," he announced.

"Well, you are going to love it here," I gushed. The man had just hit on one of my favorite topics. "If you love parks, this is the place. They all have different moods." I recited the highlights, from the Piermont Pier to the Erie Path to Nyack Beach. "Plus," I added, "this community is brimming with such rich history—the Tappan Zee, the Lenape, the Dutch, the Revolution—so much!"
"Are you a teacher?" he asked. "You're very animated. You have the energy of a teacher," he observed. "You seem like you taught young children."

I actually had taught young children at the beginning of my career. How did he pick up on that?

"I see film production crews every now and then around here," he continued.

"Well, you know, we're Hollywood-on-the-Hudson," I said and told him about different shows that featured scenes from Tallman Park.

"You seem to know a lot about television," he said.

"I used to work in the media, and my husband is a
former news anchor."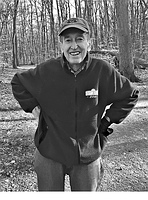 The woman spoke up again. "Do you
know who you're talking to?"

"My new neighbors!" I responded
playfully.

Then she asked again—a little more seriously this time.
"But… do you know who you're talking to?"

I suddenly felt like a third-grader who didn't know the answer in class. "No."

"Did you ever watch Sesame Street?" she asked.

"Of course!"

"Well… this is Bob."

Bob McGrath, a childhood fixture for me and millions my age, was now 88 years old. He watched me study his face. I'm a video editor. I examine expressions and do match frames all the time. As soon as that context was there, it didn't matter how old Bob was. I could see the young man within.
I watched Sesame Street growing up, always identifying with Oscar the Grouch, thanks in no small measure to my dysfunctional family of origin, where I had been maligned and misunderstood from my earliest years. Oscar was misunderstood, too.

"Bob, from Sesame Street," his wife repeated. Bob just stood there, smiling—friendly, warm, approachable.

I got a little emotional. I couldn't help it. My inner child had come to the surface—and so had Bob's.

"You're – you're Oscar's best friend!!"

"I am!" he proclaimed.

In the media industry, you meet celebrities all the time. Sometimes you even work with your idols. Once I realized Bob was going to stick around, I squelched my inner groupie and enjoyed the moment, person to person.
He asked about my family. I told him my husband Steve and I had met when we both worked at NBC's headquarters, 30 Rockefeller Plaza.
"We worked on the seventh floor where local news is."

"I worked at 30 Rock too," Bob volunteered, "when I first came to New York."

"What did you do there?"

"Have you ever heard of Mitch Miller?"

"Mitch Miller!" I said. "Isn't that the guy who had the sing-along with on-screen lyrics?"

"Yeah!" Bob smiled, apparently impressed that I knew who Mitch Miller was. He was lead tenor on the 1960's NBC-TV series Sing Along With Mitch, taped in the famous Studio 8-H, current home to Saturday Night Live.

It was a mild March afternoon, so when I reached Steve on my cellphone, he was outside, doing chores. He was already in high school when Sesame Street premiered in 1969, but his first job out of college was at a small radio station that featured pop standards, and the playlist was heavy on Mitch Miller.

Steve and Bob quickly bonded over Sing Along songs - including one of my husband's favorites, a novelty tune about a mid-century comic strip character named Barney Google.
"I've got an idea," I said to Bob, "could you sing Barney Google for Steve? I'll record you and bring it back to him."
Bob was immediately game. Without any warm-up, he was live—singing Barney Google,playing to the lens of my iPhone like the professional he was.

"Barney Google, with his goo-goo-goo-galy eyes Barney Google…"

The next lyric actually goes ";...had a wife three times his size…"
But Bob didn't sing that. He looked straight at me, and changed the lyrics on the spot: "Barney Google, has a wife who's twice YOUR size…"
I smiled at Bob. His eyes twinkled back. His kindness with those lyrics made it seem as if he knew about all my struggles with weight.
Bob was most famous for his song, "The People in Your Neighborhood." And here, we had become instant friends—in our neighborhood.
I got the feeling Bob would shoot the breeze with me all day. His wife was so patient. Being married to a former TV figure myself, I was sensitive to her body language. It was time to move on. "Well… until next time!"
I waved goodbye. When we had met back at the Evan Bench, less than an hour before, we had shaken hands. Little did I know that would be my last handshake for nearly two years. The following week, New York and much of the country was on Covid lockdown.
Walks like mine suddenly became the principal exercise for thousands of Rocklanders. I unearthed an Oscar the Grouch T-shirt I had bought at the Palisades Mall when my son was two. I wore it the next few times I went to Tallman, hoping to run into Bob again. So much for taming my inner groupie! But that encounter would be both the first and the last time I would see Bob McGrath.
I recently learned that the Bob of my childhood - Oscar the Grouch's best friend - died on December 4, in Norwood, New Jersey, at the age of 90.
If I had a celebrity to choose to walk with in the woods—the place where I decompress, meditate, and connect with my adventurous inner child—I couldn't think of a better person than Bob McGrath. And to think, it was actually Bob who had befriended me!
On Sesame Stree Oscar The Grouch had a special nickname for Bob: Bright Eyes. I Whenever I see Oscar again—on TV, on someone's T-shirt, or just as the love-worn toy my neighbor keeps in her garage—I'll think of Bright Eyes, too.
Lisa M. Duchin is a longtime Rockland resident, avid hiker, and owl watcher. © 2022 by Lisa M. Duchin