Restoration Update: Saving the John Green House
May 2019 - Issue 245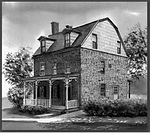 In 2015, one of Nyack's oldest houses came close to being demolished. Situated just few doors from the river on Main Street, the three-story John Green house was in dreadful shape when a group of concerned locals stepped up and formed the John Green Preservation Coalition to save it. The group was able to convince the financial institution holding the deed to turn the foreclosed house over to them. They then started the arduous task of gathering funding to bring this important historical structure back to life.
The house was built by John Green in 1819 when Nyack was nothing more than a little country village. It was constructed with reddish-brown sandstone from nearby quarries and done in the Dutch style with a gambrel roof. Green, who was born in 1772 near Albany, had a lumber business, but when it was destroyed by fire, he restarted his business in New York City. He opened a lumberyard and dock in Nyack about ten years before he built his house along with a small store adjacent to it.
Green was a mover and shaker, instrumental in the development of Nyack by opening it up to commerce. He was a founding member of the Nyack Steamboat Association, serving as its chairman and major investor in the construction of a steamship, at a time when the Hudson River was an important source of transportation. With his new dock and ferry, Green could ship farm produce as well as his lumber to New York City. The venture was highly successful and brought new businesses and settlers to Nyack. (The first commercial steamboat on the Hudson had been built a few years before in 1807 by Robert Fulton.)
Green also played a role in the construction of the Nyack Turnpike, now known as Route 59, which was completed in 1830, linking the settlement to Suffern. Nyack had been cut off from the western part of the county by the Clarksville marsh. Green along with his neighbors, the Smiths, joined J.G. Pierson, owner of a nail factory, and John Suffern, owner of a woolen factory, to create the turnpike. It conveniently terminated at Green's property at the river. In addition to being a thriving entrepreneur, Green was an early trustee of the Nyack Library and a founding trustee of the First Methodist Episcopal Church of Nyack.
The Green structure has now been stabilized and sports a new cedar shingle roof and copper gutters. The Coalition is currently soliciting additional funds to proceed with more renovations. While the Coalition is hopeful that upon its completion, the John Green house will find new life as a space for art and history, this doesn't seem to be a given. There has been talk that it could be turned into anything from a private residence to a cat café. Nevertheless, whatever its future life, a piece of Nyack's history is being saved.
To join the next work party, contact the coalition at thejohngreenhouse@gmail.com. Individual membership is $15. Mail your check to The John Green Preservation Coalition, P.O. Box 378, Nyack NY 10960.