Palisades Cemetery – Stories Behind the Stones: Mike Evans
Dec 2021 - Issue 256
In the far northwest corner of the Palisades Cemetery, yards away from the closest grave, a sole headstone stands as if on guard. It is a military marker for Mike Evans, a World War I veteran. How he came to be buried there so isolated from the other graves is still a mystery but may speak volumes about the conditions of African Americans as they emerged from the Jim Crow South in the late 1800's.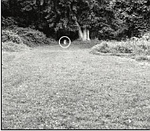 The stone reads:
Mike Evans New York
Cook
153 Depot Brigade
World War I June 17, 1886 May 13, 1940
The Journal News reported his death: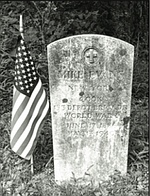 "NEGRO FOUND DEAD IN PIERMONT HOME Michael Evans, 54-year-old Piermont Mine Hole Negro, was found dead in bed yesterday when fellow roomers investigated his non-appearance for a day. Dr. Nicholas Viggiano, Piermont health officer, called by Chief of Police Walter F. Edmondson on advice of Coroner E. Hall Kline to make the medical examination, diagnosed the cause of death as coronary thrombosis and said the man had been dead for 12 hours. Lieutenant Robert P Lewis of the Orangetown police department took photographs before the cause of death was determined to have been natural. Evans was reputedly an ex-serviceman, a cook in the army during the World War. His body was removed to the Stevenson Funeral Home."
There is little in the article to indicate the fabric of Evans's life, and it is not known how he came to be buried in Palisades, but in 1949, Rockland County Burial Commissioner Frederick Loescher applied for a Military Marker for his grave, providing evidence that Evans was indeed a cook in the US Army during World War I. He was inducted at Stone Ridge, Ulster County, in November 1917 and was assigned to Camp Dix, New Jersey, initially in Battery D of the 349th Field Artillery Regiment, 167th Artillery Brigade, 92nd Division (the first almost all African-American infantry division in the segregated US Army) and prepared to embark for France on June 10, 1918. Luckily for him, he was reassigned to the 153rd Depot Brigade as a cook and spent the rest of the war helping to feed the nearly 150,000 inductees and 300,000 returning soldiers awaiting discharge. Evans was honorably discharged in March 1919.
Military records show Mike Evans was born in the late 1880's in Danville, Virginia (the last "Capital of the Confederacy" where Jefferson Davis wrote his final Presidential Proclamation), but as a young man he joined The Great Migration of over six million African Americans fleeing poverty, lynchings and Jim Crow laws in the South. By 1910, he was living in Saugerties, Ulster County, working in the brickyards along the Hudson River near Kingston.
The largest brick-making region in the world around the turn of the century, the Hudson River brickyards employed thousands of men. There were more than 135 brickyards operated mainly along the west shore of the Hudson: from 65 in and around Kingston to at least 40 from Stony Point to Haverstraw, considered the capital of the industry.*
Demand for bricks was massive as urban industrialization forced cities and factories to construct more and more buildings. Short of labor, companies like the Rose Brickyard in Ulster Landing advertised in the Southern states, some offering transportation and housing. Evans, according to the 1910 Federal Census, initially lived in Rose's worker housing that he shared with 27 other Black men ranging in age from 16 to 39, each with Southern roots. In 1920, he boarded with a brickyard worker's family in Ulster Landing where he met and married his co-worker's sister-in-law.
Competition from postwar Europe and availability of alternative building materials such as concrete and steel prompted the decline of the brick business and Mike Evans moved to Piermont, specifically the Mine Hole area on Piermont Road along the Sparkill Creek. The 1940 Federal Census listed Mike Evans as renting a room for $7 in a house owned by Richard Blackburn, a boiler cleaner at the Gair Carton Factory. He lived by himself in the same place in 1935 as in 1940. Seeking work, he had been unemployed for 24 weeks, working just 16 weeks in 1939, making $444. We can only speculate about what his life was like as a Black laborer who spent most of his adult years scratching out a hardscrabble existence in our bucolic Hudson Valley. And we can only wonder how this hard-working veteran found his final resting place in a far corner of the Palisades Cemetery.
*Visit the Haverstraw Brick Museum to learn more. https://www.haverstrawbrickmuseum.org/