Palisades Cemetery: Stories Behind the Stones
May 2021 - Issue 254
East of the old Palisades Country Store, down an unmarked lane, you can find the Palisades Cemetery. Hundreds of plots, most with weathered names, hold hidden stories of individuals who populated this town throughout its history. One such story, that of Makxim Krawchuk, at first blush seems a tale of woe, belying the idyllic setting where the gravestone stands sentry. But if you dig deeper, you can see beyond the struggles of this forgotten man to an inspiring story of human resilience in the face of unfair systems and prejudicial practices - a story right for our time.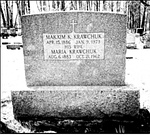 In November 1912, Makxim, a young Ukrainian farmer fleeing poverty and political unrest, boarded a steamship to New York via Halifax along with fellow Russian immigrants heading to Quebec to work for the railroad or asbestos mines. But after two months, Makxim headed for his uncle in Youngstown, Ohio. With stints in Detroit, Michigan and Peabody, Massachusetts, he moved to "Blauveltville" around 1922. Within five years Max (as he was known here) was able buy a small farm on Mountain View Avenue, supporting his wife Maria and young children with odd jobs delivering coal and laying pipe on nearby farms.
In July of 1931, one such farm, Ordog's, was raided by federal agents who destroyed a large still operating in one of the barns. Days later, at the Klee farm across from the Ordog place, four barns were set ablaze killing horses, livestock, chickens and pigeons. Rumors flew that the fires were retaliation for Klee helping the agents locate the still. Suspected of arson, Max ended up in the County jail unable to make the $5,000 bail. There were accusations of beatings and withholding of water, all denied by the authorities. Federal agents charged Max with possession and sale of alcohol and jailed him in Manhattan for two and a half months. Once back in Rockland, he was returned to jail to await his October arraignment. The trial was set for February 1932. Although the prosecution called more than two dozen witnesses, the trial lasted less than a week. Max was found guilty and sentenced to Sing Sing prison for seven and a half to 15 years.
The American Civil Liberties Union became aware of Max's case noting that the judge had misadvised the jury concerning circumstantial evidence and instructed them (falsely) that Krawchuk must prove his innocence. Eventually, his appeal was granted, and Max was to be transferred back to the New City jail to await retrial, although he remained at Sing Sing for another four months. On November 17, 1932, more than a year after charges were first filed, Max Krawchuk was acquitted and released.
During his 16 months in custody, Max and his family were reduced to poverty. In the winter, several days after Maria gave birth to a daughter, their one-year-old son Stefan died from pneumonia related to malnutrition. Max was allowed to visit his wife and newborn daughter for 30 minutes, but not allowed to attend the funeral at Rockland Cemetery where Stefan was buried alongside his siblings Luken and Katerina. By spring, tax arrears resulted in his Orangeburg farm being sold at auction. Summer found Maria and family behind in rent and facing eviction. Not home at the time, Maria found her five children had been taken to St. Dominic's Convent and the entire contents of their home were put at the roadside.
After Max's acquittal, the Krawchuks settled in Piermont behind Henry Boss's market. Again, unable to make the rent, they were evicted in June 1933 and moved to a little farm in Rockleigh. Tragedy followed Max there where his house, only a few hundred feet west of the Rockleigh firehouse, burned to the ground in August 1937 for lack of water. To shelter his wife and five children, Max built a two-room shanty in nearby Palisades from wood he salvaged from wrecked barges in Piermont. Five months later the coal stove used for heat caused another fire. Claiming the family had lived in Rockleigh longer than Palisades, the authorities took the Krawchuks to Bergen County for assistance. Ever resourceful, in 1940, the Russian immigrant managed to purchase three lots in Palisades Manor, a development on the west side of Route 340, but lost them the following year. Max moved his family to West Norwood where they lived for over 30 years.
In 1950, H. Archer Stansbury sold one of his Palisades Cemetery lots to Max and in 1973 Makxim K. Krawchuk was laid to rest beside his wife and son. Max's chronicle is only one of countless lives represented by the stones that populate the Palisades Cemetery. Imagine the other stories that have been hidden since Mary Lawrence was buried there in 1774.