Birch Brook Day Camp: An Oasis off Route 340
May 2021 - Issue 254
There is much controversy and consternation about the status of the 106-acre HNA property, formerly the IBM Conference Center, sandwiched between Routes 340 and 9W just south of Rockland Country Club, but long-time residents remember a time in the 1950s and 60s when the site was an idyllic setting for a summer camp.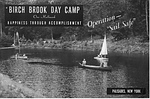 For many years, Birch Brook Day Camp offered a multifaceted program for children ages four to thirteen. The camp's slogan, "Happiness Through Accomplishment," reflected the camp's objective to provide young people with an outdoor opportunity for both fun and personal development. Promotional brochures touted the camp as "a proving ground where recreation and education are combined."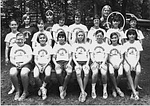 Opened in 1950, the camp offered a rural setting just 12 miles from the George Washington Bridge for those who could not or would not go to sleepover camp, but who were looking for a rural camping experience. In 1960, the cost for a full nine-week camping experience was $340.00 - not an insignificant sum in the day - but many campers, primarily from well-off families in Rockland, Westchester and Bergen counties, returned year after year.
From 1950 until 1972, the camp was owned and operated by Dr. John J. Collins, who for more than 40 years served as Associate Professor of History and Social Studies at Fordham University's School of Education. Collins's company, Basic Educational Equipment, had purchased the property from John and Amy Perry. Collins was also a consultant to numerous ocean tanker unions and the camp often had a nautical theme. In its waning years, the salty caretaker of the camp lived in a cabin on-site and was affectionately known simply as "Cap." With children of his own, Collins sought to create a positive outdoor experience for young people. He and his wife Agnes often mixed with the campers during group activities at Birch Brook.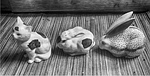 From all accounts, in its heyday the camp was a special place. Remembrances offer a nostalgic glimpse into a simpler age. On a given summer's day, campers and counselors together numbered as many as 250 and many campers were the children of leaders in the fields of business, entertainment and athletics. Transportation was provided as campers were picked up before 8:00 am and then returned to their homes by 6:00 pm. There was a host of activities on the 55-acre site that included swimming and boating in two brook and artesian-well-fed ponds, two clay tennis courts, field sports like baseball, softball, archery, mini-golf and badminton, and an extensive arts and crafts program. Myra Daley DiBlasio of Rockleigh, whose mother was a cook at the camp, recalls with pride that a tasty hot lunch was a daily highlight for a generation of campers.
Charlie Brisk, of Merrimack, New Hampshire, attended throughout his childhood. He learned to swim at Birch Brook and got his first job as a counselor at the camp. When interviewed, he was quick to point out, "I had the opportunity to stretch my leadership wings." He then added shyly, "I met my first girlfriend there."
Susan Sharp of Windham, Maine, also began camp "at a very young age" and remembers seeing the same kids every year. She counts her time at Birch Brook as "some of the best memories of my childhood. It was just beautiful there (not unlike the Maine woods where she currently lives). The crafts were really well done. I still have three figurines I made there on my dresser."
The day camp remained in operation into the late 1970s, eventually becoming a camp for residents of Orangetown. With modest funding from the town, tuition was reduced to $8.00 per week, making it possible for a much wider group of young people to attend. In 1984, Collins sold the property to IBM and the company developed it as an executive conference center. It was ultimately sold to the Chinese corporation, HNA Group, but for a whole generation of kids growing up in the laid-back fifties and the turbulent sixties, the property on the western side of Route 9W will always be remembered as Birch Brook Day Camp - a special place where they could find "happiness through accomplishment."