Stories Behind the Stones – George Mann (1734-1806)
May 2023 - Issue 262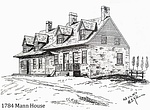 As a member of the Palisades Historical Committee, I am helping catalog a donation from the Mann family, prominent in Palisades history. More than 70 direct descendants of their patriarch, George Mann, are buried in our cemetery as well as scores more related through marriage: Lawrence, Gesner, Stansbury, Garrison, and Van Valen among them. At least one direct descendant still resides in Palisades.
George Mann, eldest son of David Mann and Anna Margareta Webrugs, was born in Seissen, a small village located in the Duchy of Württemberg. His father, a mason, probably made a relatively good living, although the village was very small and most inhabitants lived in poverty, farming the land for subsistence. In 1752, Anna Margareta at age 41 found herself widowed with six children ranging in age from two to 18. The following year, she managed to emigrate to America, settling with her children in New York. After 15 years here, her son George was able to purchase 98 acres in Palisades from James Lawrence, and added 32 more in 1772. He built his first house on a knoll south of the current Washington Spring Road where he and his wife Mary raised their six children. Life was not easy in Palisades with the American Revolution on the horizon. A community of about 100 inhabitants, people survived mostly by farming, hunting and fishing. Pushed out by European settlers, there were very few Native Americans (Munsee of the Lenape nation).
Many newcomers were Dutch, coming from New York for the fertile farmland and abundant game, and a connection to the Tappan Dutch Church. They brought their customs with them to this New World including slaveholding. Across the New Jersey border, Bergen County was heavily Dutch with English and German immigrants as well. It was estimated to have between 1,200 to 1,500 enslaved people (Africans and captured Native Americans), or about 14 percent of its population. In comparison, about eight percent of the inhabitants in Orangetown were enslaved.
The 1790 Federal Census in Orangetown enumerated 1,175 inhabitants: 467 males, 479 females, 203 slaves, and 26 others (free blacks, indentured persons, Native Americans, and other non–whites). Local families with enslaved people in their households were Blauvelt, Smith, Sickles, Perry, Mabie, Bogert, Tallman, and others. Even the Reverend Nicholas Lansing and his wife had three enslaved people. George Mann had a household of ten: his wife Mary, sons David and George, daughters Anna, Margaret, Maria and Ragannah, David's wife Catherine Lawrence and their baby Elizabeth, but no slaves.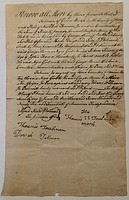 This changed in 1796 when George Mann purchased for the sum of seventy pounds, a "Negro Girl named Suke or Susan of the age of fifteen years or thereabouts," from Tunis Taulman. The document of sale is preserved in the Palisades Library archive. Suke was likely added to the household to help care for the children – three of his children had married and he had four grandchildren. George Mann built his second house in 1784 to the north of his old house, on what is now Washington Spring Road. It is in this larger stone house that his son George and his wife Helen raised their large family. This house remains, though remodeled.
George's eldest son, David, built a third Mann house in 1793 "near the cow path" where he and Catherine raised their seven children. His family and descendants were known as the "Manns in the field" to differentiate them from the "Manns of the village." (In the 18th century several of the larger Palisades families were known by their location such as "Snedens of the Field" and "Snedens of the Landing.") David's grandson David Mann and his wife Alesta Mabie were the last Manns to live in this house.
Alesta gave up her life right to live there in 1930; the house remained vacant thereafter. In 1927, their son George sold it to John M. Perry who in turn sold the land to the Palisades Park Commission in 1948 for the new parkway.
The process to end slavery began in New York State with the enactment of The Gradual Emancipation Act in 1799. It declared all children born to enslaved mothers after July 4, 1799 to be "free" but indentured until their late twenties. Then in 1817, The Act for the Gradual Abolition of Slavery passed, ending all indentured service as of July 4, 1827. The 1820 Federal Census listed many "free colored" families in Orangetown such as Cisco, Jackson, Cook, More and Thompson. By the 1830 Federal Census, New York State still counted 76 slaves. Orangetown had none.
The 1800 Federal Census shows two Mann families in Orangetown: George Mann with a household of nine and his eldest son David with eight including a slave (Suke?). Both families appear in the 1820 Federal Census without any enslaved in their households. Was Suke freed in 1817? Suke, born about 1781, should have been freed by 1827, perhaps joining the celebration in New York City on the Fifth of July.