Bill Knudson Reminisces about Working at Petersen's Boatyard in Upper Nyack
Mar 2009 - Issue 204
Long-time Palisadian Bill Knudson started working at Petersen's Boatyard in the summer of 1941 as a carpenter. The boatyard, at the foot of Van Houten Street on the Hudson River in Upper Nyack, is one of the oldest on the Eastern seaboard dating back to 1787.
Originally known as "Tallman's Dock" for Abraham Tallman who purchased the riverfront plot in 1793, it saw the building of schooners, paddle-wheel steamers and pleasure craft through the 1800s. During World War I the shipyard built submarine chasers. Following the war, the boatyard specialized in yacht building until the 1929 depression.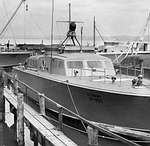 Julius Petersen who owned a small yard at the foot of Burd Street acquired the yard around this time. In early 1941, with the Second World War imminent, Petersen received government contracts to build two 110- foot wooden-hulled sub chasers. The yard would go on to produce about ten sub chasers and over forty 85-foot airsea rescue boats during WWII. Bill remembers this busy time. There were more than 300 men employed there with an office set up by the Navy. It was a seven-day a week operation. All the hulls were hand-framed; patterns and templates were shaped in the yard's three-story mold loft. Workmen laid out whole ships on the floor of the loft from blueprints. At one point, Bill won a lottery among the workers to choose a sponsor for a sub chaser. He chose his mother, Anna Knudson, to christen U.S.S. P.C. 1315.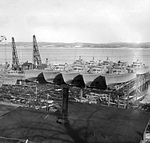 After a deferment for shipbuilding, Bill was drafted in 1943. He joined the Merchant Marines and within two weeks he was on a Liberty ship taking troops to North Africa as part of a convoy of almost 80 ships. He continued with the Merchant Marines as ship's carpenter and got to see quite a bit of the world until 1950. Shipping was slowing down at that time so Bill resumed his job at Petersen's. They had stopped building boats by this time, but remained active as a storage and repair marina, in part due to their large travel-lift and sheds for indoor storage space for boats.
Around WWII, Julius Petersen's son Arthur assumed ownership upon the death of his father. He then sold the boatyard to partners Craig Carle, Bill Gould, Stanley Sargeant and Joe Rasso. Craig Carle ended up buying the others out and when he died in the early 90s his grandsons Tom and Jeff Benneville, inherited the yard.
By the time Bill rejoined Petersen's he was not only a carpenter, but an electrician and a plumber as well because, as he puts it, "you need to know everything when you're working on a boat." Bill worked regularly at the yard until the mid 1990s, occasionally working there afterwards as an outside contractor.
A large store on the site sold boating equipment; it has been torn down along with a number of buildings. While Petersen's is still a boatyard, its future is in doubt. The owners have applied to the Village of Upper Nyack to change the zoning from water-dependent business to residential and have stated their intentions to build townhouses on the property.
Peterson's boatyard Feb. 16, 1945 Sea Rescue Boat, 1943