Closter Road Part 2: from the Flagpole to the General Store
May 2011 - Issue 213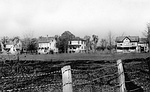 Those of us who live here in 10964 agree on one thing: we live in a remarkable place. There are many reasons why - the history, the people and the place itself. But unless it is documented in some way, the history can quickly vanish. With their outstanding books, Alice Gerard and her mother Alice Haagensen have done a wonderful job of recording Palisades' history for future generations. But there are always gaps, recollections that enrich the story with their color and perspective. And that is why I'm writing this article about a part of Palisades where I've lived since 1968 - one block of Closter Road from Route 9W to Oak Tree Road.
This particular block is anchored on one end with the war memorials flagpoles and Greek Revival Methodist Meeting House and at the other end with Palisades' last general store. In between are seven houses mostly built in the late 19th century and an 18th century cemetery. That's quite a lot for one block.
The Methodist church has been affectionately known as Yonderhill since the mid 1930s when William K. (Tippie) O'Neil purchased it and made it into an aution house and antiques emporium. This setting is the unofficial center of its own - at least in a spiritual sense - for it is here two large boulders have bronze plaques affixed to them with the names of Palisadians who fought in the two world wars.
Every Memorial Day there is a ceremony in which the entire community gets together. There's usually a speaker from the community with a message that reflects the town's rich diversity. We've had anti-war messages, patriotic messages and, in one instance, Nash Castro told us how well he knew Lady Bird Johnson. I even addressed the audience at the 1975 ceremony and focused on the history of this place. For years Archer and Helene Stansbury orchestrated the event rain or shine. You might say they were "pillars of the community."
The 1976 Bicentennial was celebrated here and I was chairman. Our committee again reflected the rich variety of the place. It consisted of Cynthia Yeo (a very talented artist), Laura Ebmeyer (our outspoken postmistress) and sisters Ann Gray and Frances Pellegrini. The sisters wanted to serve pease porridge. Laura dissented, "Nobody wants that, they want a burger and a beer!" The outcome: we served both.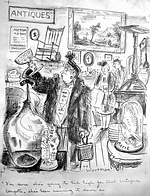 Yonderhill, now the national headquarters of Weleda that makes homeopathic medications and quality skin care products, was the stage from which Tippie O'Neil purveyed an extraordinary array of antiques. I say stage because Tippie's first ambition was to be an actor. He went to Hollywood with his life-long friend Burgess Meredith but soon found his way back to Yonderhill and marriage to Charlotte Munn who was one of the first female psychiatrists on the staff of Rockland State Hospital.
In her own understated way, Dr. Munn was a colorful character and very proud of her birthplace, Prince Edward Island. You would see her opening the shop in her low-quarter army issue shoes, a hospital uniform dyed a different color every day and a bundle of keys so large it could open any door in America. She was devoted to Tippie who was crippled with an injury sustained in WWII.
Yonderhill has been well documented; the balance of the block has an interesting past as well. Take our house (number 3) for example. It began life as a general store run by Mr. Stewart and his wife Eliza. Later it was taken over by Mr. Simmons who ran it for many years. When we purchased the house in 1972 (Eliza converted the store into a house in the early 1940s), the original counter was stored in the barn. Its top was a magnificent inch-thick walnut board. Richard and I decided to give it new life as our kitchen counter and, as we took it apart, Liberty dimes and Indian Head pennies tumbled out of the joints. A mini-bonanza. The store was one of two post offices in town. The other was at number 11 where Bob and Lois Burcaw lived when we arrived and where the Prusinowskis live today. One store was Republican, the other Democrat. Your vote reflected the convenience of your proximity to either location. The last general store to serve the community at Oak Tree Road was functioning into the 1960s.
Yes, this block is blessed with its own cemetery that dates to the 18th century. It began as a private plot for the Lawrence family and as their family grew, so, too, did the cemetery. It has had several owners: Maria Lawrence sold it to Samuel Brown (who lived in the Thayer house) who sold it in 1964 to Brooklyn resident Adolfo Luca whose daughter is the present owner. The redoubtable Molly Sneden is buried there.
Other permanent residents include the Garrison family (John, Jill and George), the Stewarts (Emma, Marian, Kathleen Martine and their parents), the Stansburys (Archer and Helene), Bentz and Kitty Plagemann. There are many more but I have limited this list to people I knew as friends. Oh yes, I forgot. The Reverend Fay Hollingshead, who was the minister at the Palisades Presbyterian Church, chose this place of eternal rest because she would be surrounded by interesting people with whom she could have a stimulating conversation in the hereafter.
Many readers of 10964 have lived here long enough to have participated in an event that had a significant impact on our lives together, the purchase of the 3-acre woodland we call The Triangle in 1979. The woodland in the center of town was owned by the Ratcliff family. Dossi and Reg Thayer were in contact with them and spearheaded its purchase. It comprised three acres of land zoned for community shopping, i.e., business. The price of $50,000 was an obvious bargain but still the money had to be raised. Margaret Parton wrote a fund-raising broadside, "Help Save Our Village Green." Money came in, but not enough. What will we do if a 7-ELEVEN builds a store here? Horrors! Nash Castro to the rescue. As Executive Director of the Palisades Interstate Park, he knew of a fund in Albany designed to keep small parcels of land green. There was one condition: local residents had to contribute half the purchase price. That was a cinch. The necessary money was raised and The Triangle will now remain as it is forever. Thank you Dossi, Reg and Nash. These are but a few of my recollections of life on this part of Closter Road. I could go on but I have passed my word limit. What is not diminished is my unbounded enthusiasm for the people and this place we call Palisades.