A History of Fundraising for the Palisades Free Library
Oct 2016 - Issue 234
The Palisades Free Library has survived 125 years because of the impassioned support of Palisadians who care about reading.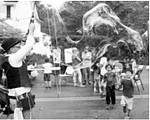 In the beginning the library, located in the old Watson house, now known as the Ding Dong, had an annual income of $30 or less and needed additional income. The first fund raising entertainment offered by the Palisades Library Association took place on January 5, 1892. Miss Lottie Hill and Miss Emily Wahrenberger both sang.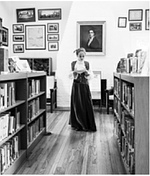 Charles Gilman relates that the first 'Literary' was held March 8, 1900 on a moonlit evening. The program included Miss Estelle Mann on the piano, 'A Slumber Song' performed by a quartet comprised of Miss Lottie Hill, Miss Emily Wahrenberger, J J. Van Valen, and W. S. Gilman. Mr. Arthur Munson gave two readings and Robert Sneden two recitations, Mrs. Ford also two, and W. S. Gilman one from Flammarion's Astronomy. Several young people performed Dumb-Crambo very acceptably. The program was announced by a dwarf in costume. Admittance was by ticket at five cents each, 80 being issued.
The library also offered tableaux in which local children dressed up as historical figures such as Benjamin Franklin on his way to Philadelphia and a young lady pouring tea for the Marquis de Lafayette and his wife.
In 1944 the library had to leave the Big House and move into the back room of the Community Center, then the Old School. The school population increased, putting pressure on the library, and by 1947 people realized the library needed a new home. Fundraising to make this possible began. Ruth Salmon, who had been librarian in the Big House, raised over $2,000 with a Mardi Gras supper party and an old movie show. Jo Walden organized the first plant sale, which was so successful that it became an annual event. Together with generous contributions, enough money was raised to buy the old Jordan house, its current home.
Fundraising paid for alterations to the building. Indefatigable Palisadians organized lotteries, Christmas fairs, and food sales, and as construction got underway, the Boy Scouts split discarded lumber into kindling that they sold for the benefit of the Library, adding another $20 to the Building Fund. Slowly, in tens and twenties and hundreds, the money kept coming.
In 1962 the library was given $1,200 to begin the building of another reading room. The P. T. A. donated the proceeds of its new cookbook, Pots and Pans in Palisades, to the cause. A supper for 500 was held at the John M. Perry Legion Hall, with striped bass poached by Lydia Lawrence's great‑grandson, Joe Hyde, who was becoming one of the best known professional chefs in the country. Two MG sports cars were raffled off at $25 a chance and netted the Library over $1,000. Hundreds of plants were sold; there were book sales and food sales, and at the May Board of Trustees meeting in 1964 Donald Tapley announced a total Building Fund of $12,432.65. The spade was given to Rosamond Kenison and Mildred Rippey, and ground was broken for the Babcock Memorial Wing.
The wing was completed and in active use when the Library celebrated its 75th Anniversary in 1966, at a party and "entertainment" in the Big House. Final funds needed were raised by a handsome dolls' house, made by Mrs. Andrew Norman and her friends, which earned $910 for the Library in $1 chances, and by Palisades' first Open House Day, for which four hundred and ninety‑nine tickets were sold at $5 each. My mother won the dollhouse – the room was full of sad little girls.
Mildred Rippey relates that when Roger Angell of The New Yorker was on the library board the library hosted annual book fairs at which authors displayed their books and autographed them. One year Carson McCullers, Hortense Calisher, Thomas Berger, Dorothy Davis, Edgar Snow, Marianne Moore (with her famous tricorn hat), and many more, attended. Bill Katzenbach brought Charles Addams who had just written his Monster Rally. He came in late 'three sheets to the wind.' Albon Man had found him in a bar in Sparkill, locating him by his Rolls Royce. A long line of people was waiting for him to autograph their books. He sat on a stool in front of a lectern and got to work. One old lady, who had been patiently waiting, said politely: 'Mr. Addams, you look like everyone else.' He scowled, furrowed his brow and retorted: 'But, Madam, I have green scales underneath.'
Yearly parties continued during the 1950s and '60s. Ann Tonetti wrote about a library dance held at Lamont Hall in 1973 under a tent overlooking the Hudson River. "Chef Joe Hyde created an exceptional dinner and The Meyer Davis Band played. Ron Johnson, a sound engineer at the Electric Lady Studio in Manhattan who was renting the Ding Dong house at the time, offered to have one of the new bands he was recording play for free. Over 400 people showed up. The party was lively, the food fabulous and everyone was having a wonderful time. At midnight, Ron Johnson brought his band onto the stage. They were quite a sight. Their faces and necks were painted white, with a black lightning strike in the middle; they were wearing black spandex pants and grotesque platform shoes. Gene Simmons, KISS' lead guitar, announced 'Ladies, move your ass!' Younger ladies followed his advice; older, proper ladies like Annie Gugler were surprised and a bit shocked. Then began a wild four hours of loud rock music, so loud it made your chest thump. The teenyboppers who had crashed the party went wild over the new band. Guests were still straggling out of the tent as the light dawned the next morning. It was truly a night to remember and best of all we had made a huge amount of money for the Library."
From the fall of 1981 through the fall of 1985 the library sponsored Sunday Seminars featuring Palisades residents speaking on topics of interest. The first speaker, on November 15, 1981, was my father, Dr. Cushman Haagensen, talking about the origins of American medical education.
In June 1991 the Library held a 100th anniversary celebration and kicked off a centennial building campaign. The trustees set a fundraising goal of $400,000, which had not yet all been raised when a ground-breaking ceremony for a major addition to the library was held on July 19,1995. A Spring Gala and Auction held on May 8, 1999 raised $30,000, which was used to pay off some of the library mortgage for the recent expansion.
Sunday Symposia were resumed in 2006 and continue. The Library's recent addition, completed in 2013, required little fund raising because of grants and legacies. The tradition of creative fund-raising has continued with this May's celebration of the library's 125th birthday, expertly organized by Holly Seeger with the invaluable help of the library staff, especially Anya Berg and Maria Gagliardi. We applaud them.