New Life for the Historic Mann House
Mar 2014 - Issue 224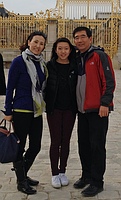 IN 2001, MIKI HYUN, with husband Chul and daughter Sarah, moved into a house on Woods Road that she had designed and built for the family. While waiting with her daughter for the school bus at the triangle on Washington Spring Road, she became intrigued by glimpses of an old stone building, barely seen through a rhododendron hedge. When she explored, she discovered the badly preserved remains of the second oldest house in Palisades, built in 1784 by George Mann, a farmer who had moved here from Würtemberg, Germany. It had most recently been lived in by Sheila Converse who died in 2003.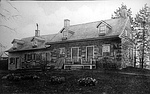 Miki, who received a Master of Architecture degree from the University of Maryland in May of 1990, is fascinated by history and historic preservation. In 2005 she bought the old Mann house to restore it and eventually move in with her family. However, it wasn't easy. It took her several years to subdivide the property and to get the necessary permissions to build from Town Boards. Construction took two years and eight months; Miki was the contractor.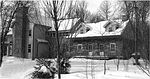 She decided to save the oldest part of the house, the two stone sections, and to replace the more recent frame addition at the back with a larger building. Saving the old sandstones, which had been cut from the Snedens quarry by the river, was a monumental job. The north room, the first to be erected, was built in classic Dutch style with two doors and two fireplaces. All of the old mortar had disintegrated and the joints between the stones had to be re-pointed. The plaster, which covered the stones inside the room, had been damaged by water and had to be removed. Miki decided to leave the stones bare, finding them beautiful with their shades of pink and brown.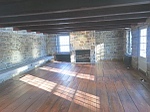 There is now only one fireplace, which has been rebuilt, but the original floorboards are still there and the 19th century beams. The windows are the same. A room above had to be removed; the job was done by hand, taking two and a half weeks to avoid stress on the stones below. Miki considers this room the jewel of the house and plans to use it for fund-raising events, occasions like Thanksgiving and will offer it as a meeting place to non-profit and community organizations.
The front door opens into a hallway dividing the old stone room from the new, ulta-modern section. The exterior frame walls are meant to look like a farmhouse, blending with the old stone sections, but the inside is contemporary. There are limestone floors with radiant heating, white walls, and lots of space and windows. The kitchen has a big granite island and there is a gym in the basement. Miki's parents, who now live in Suffern, will move into the 5,800 square foot house when the family does, around the beginning of March.
Miki loves gardening and has planted 300 trees on the property, mainly evergreens and fruit trees. She has thinned and cleaned up the rhododendron hedge and plans to build a pool in the backyard. Her next project is to renovate the cottage south of the house, where John Converse once lived, as a pool house. Chul Hyun, Miki's husband, is a gastroenterologist who is also interested in architecture. He has a private practice in Englewood and in Manhattan, and is an attending physician at New York's Presbyterian Hospital as well as being a faculty member at Weill Cornell Medical College. Dr. Hyun has been supportive throughout the process of building the house, and hopes himself to somehow contribute to the community of Palisades. I, and I'm sure many other Palisadians, feel that he and Miki have already made a major contribution to the community by preserving this historic room and giving it a new life as part of a modern family home. Miki is still excited by the history of the house. She told me, "We only live once, it's important to preserve our heritage. We get to live in a place where the person we admire the most [George Washington] passed by!"