Our Oldest House
Dec 2016 - Issue 235
The Big House was built of sandstone by Henry Ludlow around 1737. A matching wing was added on the left in 1821. In 1867 the roof was raised to make a second story and the veranda was added.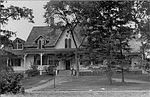 To the right is a 19th century picture of the Big House around the time it housed the Palisades Library. Today it is owned by Jeff and Lynne Sandhaus, who have lovingly restored it. The address is 201 Route 9W.
Caroline Tapley has written a fine article about the history of the house; you can find it on www. palisadesny.com in the Archives, issue #142.