The Palisades Triangle
Mar 2015 - Issue 228
Have you ever taken a walk through the Palisades Triangle? The thickly wooded interior is boggy and overgrown with briars and poison ivy making progress difficult but there are pleasures to be found there, for in the bog live frogs and the insect life to sustain them, a variety of ferns and skunk cabbage and other bog-loving plants, birds and of course, trees. There is an unexpected sense of quiet and remove from the developed world, a tiny wildlife refuge in the middle of town.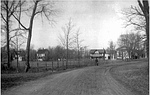 Although currently hard to penetrate, the Triangle, a three-acre geometric shape formed by 9W, Closter Road and Oak Tree Road, was for much of its existence an open meadow, and because timothy, a perennial grass cultivated as a hay, grew abundantly in it, it was called the Timothy Meadow. Over the centuries, it has been an important part of life in Palisades, being used for whatever the hamlet needed, such as grazing cattle, military drills and ball-playing. The land, once dry, has become boggy over the years with road construction interfering with natural drainage.

Now the Triangle is a public park. That we have a park in the center of our hamlet can be traced directly to Dossie and Reggie Thayer who spearheaded the Palisades-wide effort to preserve the land in its natural state in perpetuity. In 1978, the Ratcliffs, who then owned the Triangle except for a thin sliver facing Oak Tree Road, decided to put it up for sale, and as it was zoned for commercial use, Mobil expressed interest in building a gas station on it. In response to this threat to the character of our hamlet, the Thayers formed the Palisades Triangle Committee which obtained funds in the form of a grant from the State of New York and from donations from the residents of Palisades, including the entire treasury of the Palisades Youth Group, and from communities ranging as far north as Canada and as far south as Washington, D. C., that allowed The Town of Orangetown to purchase the land as parkland. Palisades is not an incorporated entity and cannot take legal title to property. Only legislative action at the state level can change the Triangle's status.
Even so, the Triangle was seriously threatened again in 1986, when NYNEX petitioned the town board, now with new members, to allow it to build a substation on the Triangle. The town was ready to approve the proposal but Reggie Thayer defeated it single-handedly by reminding the town board of the legal status of the property. The frailty of legal protection without community vigilance was exposed.
The Palisades Triangle and all the life within it stand in mute tribute to the citizens of Palisades who work together to preserve and enhance the character of our hamlet and they remind us of the ever present need to stay alert and engaged in community affairs.