Remembering Camp Shanks
Oct 2014 - Issue 226
Seventy years ago this past June, Allied Forces stormed the beaches of Normandy. Seventy-five percent of the Americans who fought that day passed through Camp Shanks.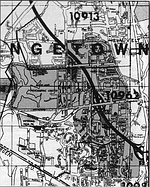 It was 1942 and summer was drawing to a close. Ripening fields of corn, lettuce and cabbage lined rural Orangetown's Western Highway. Expanses of fruit bearing orchards awaited the fall harvest, and local residents had little idea their lives were about to be turned inside out.
The U.S. was at war.
In September of 1942 three hundred local property owners, many of them farmers, were informed by government officials that the United States Army was to purchase their property under the War Powers Act. They were given a scant two weeks to vacate.
The Army seized 1,365 acres of farmland and homes, and combined with 675 acres of land leased from New York State, created Camp Shanks, a military installation designed to accommodate the largest troop deployment in the U.S. during World War II. By war's end, 1.3 million service personnel had been processed through the camp.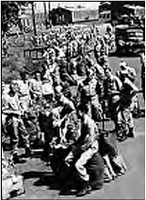 The facility opened on January 4, 1943 with only a handful of barracks built. Construction went on round the clock through the severest winter ever recorded for the Hudson River area with temperatures hitting an all-time low of 26 degrees below zero. The camp was completed in May at a cost of $45.4 million and named for Major General David Carey Shanks, the commander overseeing the deployment of 1.7 million soldiers from Hoboken's Port of Embarkation during World War I.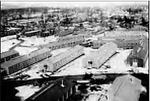 The 2000 plus acre site extended 2.5 miles north to south from Old Tappan Road in Tappan to Blauvelt Road in Blauvelt, and a mile east to west from the West Shore Railroad to Rockland State Hospital. The Hudson River and two extant railroad lines provided easy access to Manhattan and Hoboken harbors where large military ships could dock.
Seven staging areas accommodated 46,000 troops at a time with 2,500 buildings providing housing, offices, entertainment facilities and medical services. There were six theaters, several post offices, four USO clubs, a hospital, chapels, bakeries, several beer halls and an amphitheater. There were also ball fields, bowling alleys, a swimming pool and gymnasiums. A staff of over 5,000 people maintained the camp; 400 of them were from the Women's Army Corps (WACS).
A steady stream of celebrities such as Betty Grable, Frank Sinatra, Louis Armstrong, Jackie Gleason, Shirley Temple, Jack Benny, Mickey Rooney and Judy Garland entertained at the camp amphitheater. USO dances were held at the Rockland State Hospital auditorium with local girls in attendance. Among others, Harry James and Benny Goodman provided live music.
Most soldiers spent between seven to twelve days at the camp awaiting deployment. They received medical inspections, uniforms and weapons. Drills included tests of gas masks in the camp's gas chamber. Camp Shanks became known as "Last Stop USA" with 1.3 million service personnel processed before heading for action in Europe and North Africa.
The Piermont Pier was also requisitioned by the Army in 1942. It was reinforced by the U.S. Army Corps of Engineers to support a steady stream of military vehicles and marching feet from the camp. Every month 40,000 soldiers boarded group transport vessels at the pier to be ferried to carriers in New York City harbor. In 1985 a marker at the end of the pier was dedicated to "the many thousands of men from Camp Shanks who left this port to fight on foreign soils…"
As the war raged on the camp also served as a receiving center. The wounded from the Battle of the Bulge arrived in January 1945. More than a quarter million German and Italian prisoners of war spent weeks to months at the camp until being distributed to one of over 150 camps around the country.
After VE Day in May, half a million veterans began arriving back in the U.S. They were transported back to Camp Shanks by train after docking at piers in New York and Staten Island. By late June the Army decided the trains were too crowded, and that it would be more expedient to unload troops off the Piermont dock. The water was too shallow for large transports to dock, however, so small harbor boats carried the troops over to the pier. During the next two months 45,484 troops sailed direct from Europe up the Hudson to Piermont. Upon arrival, soldiers were treated to an all-you-can-eat steak dinner and a chance to call home. A few days later they were on their way to camps around the country for discharge. Wounded veterans were cared for at the Camp Shanks hospital until arrangements could be made.
After the war, Camp Shanks had a new life as Shanks Village. Many of the wooden barracks were converted into small spartan apartments renting for $32 a month so veterans could attend nearby colleges and universities on the GI Bill. Columbia University, the Federal Public Housing Authority and eight other educational institutions shared financial responsibility for the project.
In 1956 Camp Shanks was bisected by the Palisades Interstate Parkway and the remaining property was auctioned off to four developers. Housing developments, Tappan Zee High School, Orangetown Town Hall and shopping plazas now sit on the former site.
But in June 1994, fifty years after D-Day, the Camp Shanks Museum opened on South Greenbush Road in Orangeburg to celebrate the place so many of our country's veterans experienced before and after battle. Housed in a re-created Quonset hut barracks, the museum has photographs, uniforms, a replica of the area, music, movie posters, and other artifacts. Hours are 12:00 noon to 4:00 pm on Saturdays and Sundays from Memorial Day through Labor Day. Admission is free.