Skunk Hollow: History of a 19th Century Community of Free African-Americans
Mar 2006 - Issue 192
Throughout most of the nineteenth century, a small community of free blacks existed along the New York/New Jersey state line about a mile south of Palisades. Known as Skunk Hollow, it was settled by former slaves and their descendents 60 years before slavery was abolished in New Jersey. The first known deed was to Jack Earnest, a former slave, who, on January 1, 1806, paid $87.50 for five acres and 30 square rods; in 1822 he purchased another six acres.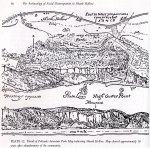 While blacks initially referred to the entire area as "The Mountain," whites sometime later called the New Jersey community Skunk Hollow (perhaps for a spring plant that proliferates in area swamps) and the land just into New York they called Turkey Ridge. The wooded terrain had been deforested by its white owners, then sold off because of difficulty farming the land with its rock outcroppings, steep hills and swamps. Blacks, willing to buy degraded land for a home site even though it was marginal for agriculture, may have been drawn to its isolation.
It appears from tax records that Skunk Hollow settlers, while poor, were more prosperous than other African-American families in the township. By 1854, most Skunk Hollow residents owned property. Indications suggest a stable and enduring male-dominated family structure. It is likely that freed blacks worked for former owners. The family name most frequently documented is Oliver. Jim Oliver, a former slave, acquired land in 1840 when Johannes Blauvelt, his master, died and gave him his freedom. The Olivers and the Whiteheads established burial grounds on their property. (The Palisades Cemetery includes a tombstone of baby Jane Sisco who died in 1846. It was moved from Skunk Hollow in 1974.) Some of the long time inhabitants of Skunk Hollow were the Cartwrights, Siscos, Treadwells, Millers, Browns and Johnsons.
Economic and social ranking existed within the group. By 1860, the wealthiest man in Skunk Hollow was William Thompson (Reverend Billy), an African Methodist minister who had purchased Jack Earnest's property upon his death at 71. The religious leader was a binding force in the community, building a church between 1856 and 1860. Most likely the first church of its kind in Bergen County, it occupied a pivotal position in the black community.
In the 1850s, a piece of land on present Route 340 was also purchased and the "Old Swamp Church" built to accommodate members who had moved from the Mountain. Thompson was its pastor until his death in 1886. In 1889, with a declining community, the Swamp Church was moved several miles north to Sparkill. Called St. Charles A.M.E. Zion Church, it was completed in 1897 and in 1910 became incorporated with the Methodist-Episcopal Church in Piermont. As more people moved out of Skunk Hollow, the Mountain church had only limited services and by 1900 was abandoned.
Skunk Hollow reached its greatest growth by 1880 with thirteen households and 75 people. According to census records, five years later the number of households had dropped to six with 26 inhabitants. Joan Geismar, a doctoral student of anthropology at Columbia University, based her 1982 dissertation, The Archaeology of Social Disintegration in Skunk Hollow: A Nineteenth-Century Rural Black Community, on fieldwork at the site coupled with census data, tax records, an unpublished diary and local history. She states, "The disintegration of Skunk Hollow can be chronologically tied to the loss of status of its ranking individual, the Reverend William Thompson… perhaps the result of his death or inactivity."
This was a time of change. The passage of New Jersey's first major civil rights law in 1884 guaranteed all New Jersey residents equal access to public accommodations and jury service. Rural areas had become less isolated with technological changes, new roads and railroads. A road built in the 1870s linked Skunk Hollow with Closter four miles to the south and Palisades less than a mile north.
Ms. Geismar reports that Skunk Hollow was abandoned between 1907 and 1911 with some of the inhabitants moving to Turkey Ridge, a small community of both blacks and whites. (The original road to Turkey Ridge ran to the east of 9W through the Mann farm orchard at Highland Avenue and what is now Washington Spring Road.) Others settled in Closter or Sparkill.
While large parts were abandoned by 1911, other sections of the Mountain continued to be lived in. The February 20, 1979 issue of The Journal News reports, "Several families remained until the Great Depression when much of the Mountain properties were sold for unpaid taxes and the families evicted. Even so, the houses still continued to be used as summer homes…right up to WWII."
Geismar states, "By the 1930s, the land constituting the core of Skunk Hollow was purchased by the Rockefellers and donated to the Palisades Interstate Park." In 1954 the Palisades Park Commission bulldozed a number of the abandoned buildings while constructing the Parkway. The land now belongs to the Borough of Alpine, Columbia University (Lamont-Doherty Earth Observatory and the Florence Lamont Nature Sanctuary) and the Palisades Interstate Parkway. Little remains of the original structures.
Editor's note

Slavery existed in New Jersey for 200 years, ending in 1865 with the ratification of the Thirteenth Amendment. Prior to this, slaves were freed after serving in the Revolutionary War or with their masters' approval. Some blacks were descendents of slaves freed during colonial times by the Dutch West India Company and others, like the Siscos, whose ancestor Jan Francisco arrived by Spanish ship in c. 1624, were never slaves. Jan was granted land in New Amsterdam in 1644. Free blacks were denied the right to vote; 1807 legislation, in effect until 1875, limited the vote to free white males.
Copies of Ms. Geismar's dissertation are available at the Palisades Free Library. Much of this information is based on her findings.