Bright Horizons Preschool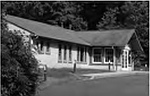 You've passed it many times. Maybe it even caught your eye - that glint of white through the evergreens off Route 9W, just south of the light at Washington Spring Road. Formerly the "Tree Ring Lab" division of The Lamont Doherty Earth Observatory Campus, this single story structure is now home to Bright Horizons, a Daycare/Preschool facility accredited by the NAEYC (National Association of Education for Young Children).
Established in 2002, this local gem accommodates employees of the Lamont Campus, as well as families in the surrounding community. It thrives primarily on word-of-mouth recommendations - as well it should.
Moving back to Palisades in 2006 with an infant in tow had me fretting over local daycare options. A fellow Palisadian pointed my husband and me (literally) in the direction of Bright Horizons, and this past June marked the tearful end of our eight-year, two child journey at the center.
I could wax lyrical for pages about the genuinely caring, diversely talented women with whom we entrusted our children day after full workday. More than giving us peace of mind, and even more than documenting our children's first steps and first words, these tireless individuals creatively instilled a thirst for LEARNING. Above and beyond the ABCs, our children learned responsibility and accountability in the world around them. They also learned empathy, trust, and respect for their peers and teachers, proudly sharing their discoveries and accomplishments with us at the end of each day. For these nuggets of wisdom, we are forever grateful.
Offering flexible part-time and full time options, the center's three classrooms can accommodate up to thirty-four children as young as six weeks and up to five years old. The center's director welcomes interested families for tours anytime.
It is a stone's throw (and a far cry) from my own exclusively "groovy" Preschool experience at the Palisades Presbyterian Church (hey, it was the seventies, man), but Bright Horizons is nothing short of a buried treasure.
Bright Horizons at Lamont Doherty
135 Route 9W, Palisades, NY 10964
845-848-2665
brighthorizons.com