Palisades Cemetery - The Stories Behind the Stones
As the calendar moves deeper into October and the leaves show off their annual festival of fall colors, find some time to spend a few moments on one of these magical autumn afternoons. Journey past the Liberty Flagpole at the triangle on Route 9W, just north of Oak Tree Road. There you will find a boulder with two bronze plaques affixed, commemorating the men from Palisades who served in our two World Wars. Continue west down Closter Road and just before you get to the Palisades Post Office, after the white fence with pink roses, wander up the unmarked lane that leads to the Palisades Cemetery. Open the gate and spend a little time in prayer and reflection, in awe and gratitude for those who are buried there.
Now, at first blush, a cemetery may seem an unusual destination for an afternoon stroll, but in this serene location, you may discover that there is much to see, and even more to ponder and consider — the lives of neighbors who have found their final resting place there, some who are heroes and some whose names are lost, perhaps forever.
There are many styles and materials for the memorials. Older headstones were made of sandstone and marble and are more weathered than the granite ones. Pausing to look closer, you can see many flat bronze grave markers with engravings that, in addition to names and dates, include military service information. These memorials were provided without charge by the National Cemetery Administration of the U.S. Department of Veterans Affairs to honor veterans who have served our country, whether in wartime or peace. These markers honor World War and Korean War veterans. But there are many other veterans in the cemetery without such markers, identifiable only by a small American flag. (See our May article, A Solitary Tribute Three Decades in the Making, on Bernie Doyle.) Some are not marked as veterans at all. This is part of the mystery of such an old graveyard.
The Palisades Cemetery is honored to have veterans who have served with distinction as far back as the American Revolution, the War of 1812 and the Civil War. Alice Gerard writes about early patriot Jonathan Lawrence in this issue. The Garrison family plot has two sets of brothers buried there, one set fought in the Civil War: Zebulon returned home, but John William died at Alexandria, at age 22. Zebulon's grandsons served in World War II. Albert Jordan, a World War II veteran, is buried near his father, Walter S. Jordan, a World War I veteran. Albert, his father and brother, Walter "Bill" Jordan, are listed on the plaques at the flagpole.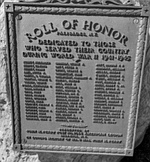 Read over the other names listed on the honor rolls at the flagpole and you find many are first generation Americans – parents from Italy, Hungary, Switzerland, Ireland and Germany – who served their new home. Others are sons of well-known families who helped grow Palisades for generations. One soldier, John Marder Perry, was killed in action in France in 1918. His father established the American Legion Post on Route 340 in his memory.
Notice the many brothers: four sets in World War I (Bleecker, Brizzolara, Sneden and Wallace) and seven sets in World War II (Aubrey, Drab, Emerizy, Garrison, Jordan, Kahler, Scharpf and Wallace). Five brothers from the Drab family enlisted and one, Alexander, lost his life in the Pacific theater and was buried at sea. Mrs. Emerizy had four of her seven sons' names engraved on the Roll of Honor.
Palisadians' patriotism runs deep. Sacrifices for country were not only made by the soldiers, but also by family members, loved ones and neighbors who supported the cause of freedom from the home front. These lists are a reminder that while we solemnly commemorate Memorial Day in the spring, honoring those who have perished in the cause of freedom, Veterans Day in November is more a time for celebrating those who have served and who have gone on to attend to their community's needs in other capacities.
And so, on a warm and sunny October afternoon, take a moment to do something unusual, not in sadness, but in wonder: visit the Palisades Cemetery. Explore the plaques and the headstones. Allow the gentle breeze to stir your imaginings. Consider, with gratitude, the generations that have come before, especially those who have served, and how their lives may have been, and how it is ever so important that we remember them—named and unnamed alike—and the debt they are owed.