Palisades Presbyterian Church News: October 2016
Sunday Worship Service: 10:00 a.m.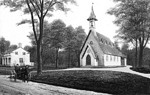 Sunday School: 10:00 a.m.
Bible Study: Wednesdays 12:15 - 1:30 p.m.
Choir Rehearsal: Thursdays 8:00 p.m.
Pastor: Reverend Angela Maddalone
Please check out our Facebook page! www.facebook.com/ThePalisadesPresbyterianChurch
Office Hours: Tuesday and Thursday, 12:00 p.m. - 5:00 p.m.
117 Washington Spring Road
PO Box 687
Palisades, NY 10964
845-359-3147
ppc10964@gmail.com
www.palpresny.com
Prayer Group Forming: Have you ever longed for a place to share your prayer needs with others? A place to be supported and cared for spiritually? If so, come to our new prayer group. Prayer connects us to God and to each other in a unique way and lifts our spirits, literally. We will be meeting at the church on the fourth Thursday of the month from 6:45 p.m. - 8:00 p.m. All are welcome.